"A naked guy at the Y came up to me a little while ago and said, 'Hey, way to stick it to those Grammys people,'" Bon Iver frontman Justin Vernon says, his left hand nervously raking his beard. " 'They're not going to let you play your own music? Fuck 'em.'" Vernon is scrunched up on a couch in a dark West Hollywood hotel room, less than 24 hours away from his first trip to the Grammy Awards here in Los Angeles, an event that, along with four major, seemingly unexpected nominations, has brought with it intense, seemingly unexpected levels of scrutiny and opinion. The stranger at Vernon's hometown gym represents just one slice of the spectrum. "There's plenty of other people [back home in Eau Claire, Wisconsin] who said, 'Hey, good luck! Just be nice! Represent us well!'" he says, hand still tense. "I don't know what that means, though. Represent to whom? More people? Twenty-five million rather than 60,000? I don't know."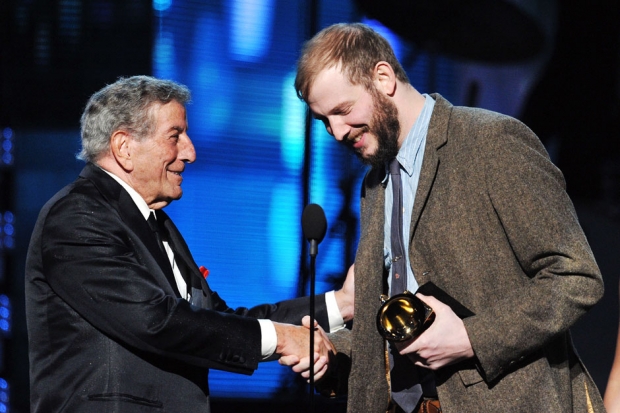 "I don't know." Over the course of 48 seismic hours in L.A., Vernon, 30, will repeat the phrase like a mantra. His discomfort is not a secret. In December of last year, immediately after nominations had been announced, the New York Times published an unused excerpt from conversations with Vernon ten months prior. The blog post's title: "The Bon Iver Grammy Quandary." Its central message: Months before the release of his record, an incredulous Vernon was openly uncomfortable when presented with the idea of being nominated for an award, as well as the notion of being called to walk across the Staples Center stage to accept one. A slew of online dustups followed, prompting Vernon to explain himself via Twitter and on radio, his every comment quickly documented by indie rock's various media organisms.
And all of that coverage only has intensified in the week before the ceremonies, as Vernon let slip to a Billboard reporter before Bon Iver's SNL debut in New York that he had—using loose, possibly whiskey-assisted verbiage—refused an offer to perform during the Grammy telecast. Given the option of playing alone on a satellite stage or alongside Bonnie Raitt, whose songs he had covered as part of a special medley on Late Night With Jimmy Fallon last year, he chose neither.
"The closer and closer we get to it, the more and more I'm confused about why I feel uncomfortable," he says as his cellphone flashes on the couch arm next to him. "If anything has gotten to me over the past few weeks, it's that people started to think I was being a baby. It hurt a little bit. It's been the one time that I've felt hurt. I don't care that much, but I care enough not to play that show without my band. They can talk about the cabin, they can make up bullshit about me or the band or mispronounce the name, but I really didn't like it that people were like, 'Man, shut the fuck up.' Because when you print things like they've been printing, I'd say shut the fuck up to me, too."
Vernon is visibly shaken, his baritone soft in the center, caught high in his throat. But up until now, the topic has remained an elephant in what's otherwise been a relaxed, quintessentially Southern Californian room. We've spent the day on a breeze, crawling through freeway traffic, swinging by the cavernous Convention Center downtown to grab our telecast tickets, and an In-N-Out Burger on Sunset, only to run away upon seeing the line of cars in the parking lot. We've been rifling through racks of denim at All Saints' pre-Grammys gifting suite inside the Chateau Marmont hotel, and seeking out a proper dress belt on Melrose for Vernon's Grammy night suit. At no point has Vernon shown any sign of anxiety, save for concern over the inevitable split-screen reaction shot ("so nerve-wracking") and an awkward moment in the gifting suite with a woman who asked him if he was so excited for what the weekend held in store. "Eeeeeeh," he said, coiling slightly in a fresh Hawaiian button-down. "You know." She didn't.
"If I was a professional basketball player," Vernon says, as his cellphone flashes again, "my favorite part would be the games, and my least favorite part would be the All-Star game. Those aren't the basketball games that mean anything. I don't think it's very smart to be mad at the Grammys. I'm mad at that Ken guy."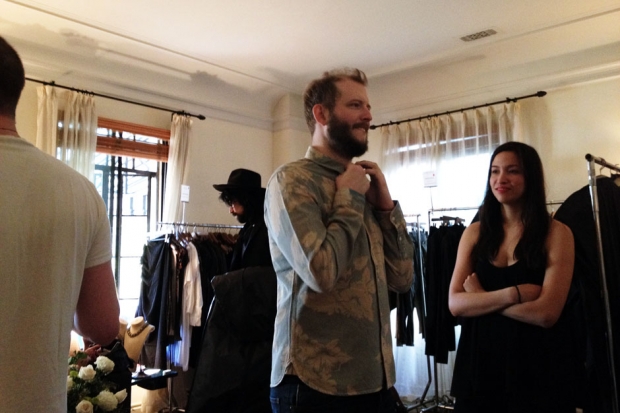 Vernon is referring to executive producer Ken Ehrlich, who, in what the former describes as a very genial, respectful conference call, expressed concerns that Bon Iver's music wouldn't translate to the screen, particularly when it came to ratings. "He was worried that our type of music would lose two to three million viewers during our three minutes, and that that can't happen. I remember hearing that and how it just echoed in my brain. It's still echoing in my brain. 'That can't happen.' As if what would happen? Someone would lose their job?" Vernon reasoned that he didn't need more exposure, especially if it meant appearing without his bandmates. They "agreed to disagree," as Vernon puts it (Ehrlich could not be reached for comment), but he remains rattled, doing circles in his head on the couch. His phone continues to flash. "Talking about this," he says, "I've started to feel pretty dumb, like I have no idea what I'm talking about and I'm in over my head. I've always had an opportunity to be confident and to speak my mind and express myself, and now I'm doubting that a little bit. The one thing I feel smart about is the music. I just wish I could play it where I want to play it, when I want to play it, how I want to play it, for as many people who want to listen. We'll see how I feel afterwards. Maybe I'll feel like a dick and everyone is awesome. I don't know what I'll think."
He stops to finally check his phone, where he finds a text message from an acquaintance: "Whitney's really stealing your thunder right now." "What could this mean?" he asks me, having not yet heard the big news of the weekend. We agree it's probably a reference to Whitney Cummings, but that doesn't make sense: Her show airs on NBC and the Grammys are on CBS, the "old people network." He pops up off the couch to start changing for dinner.
"To whitney," declares My Morning Jacket drummer Patrick Hallahan, his cocktail glass raised to Vernon's. Whitney Houston's death had just been announced a few hours earlier. We're in the lush, beautifully lit backyard garden of the Haus of Strauss, a special showroom that Levi's has set up around the corner from the Chateau Marmont and four miles from the Beverly Hilton, where news crews are camping out, trying to cram their way into a press event preceding Clive Davis' annual pre-Grammys party for more information. The mood here, though, is serene. Vernon and My Morning Jacket's Jim James are meeting for the first time tonight, bonding from the start over their individual contributions to an ongoing collaboration with the Flaming Lips. "Is it an EP or an album?" James asks. "No idea!" Vernon replies as they both pivot into place for a photo together. Levi's has arranged for chef Ludo Lefebvre to prepare a five-course meal in celebration of the Grammy nominations of Bon Iver, My Morning Jacket, and beardless Aussies Cut Copy.
"Every time I have been nominated for something, I have lost," Lefebvre jokes as we're seated. "So I am crossing my fingers and hoping for you this weekend." Halfway through our entrées, Bon Iver's Song of the Year nominee, "Holocene," begins to drift from the speakers overhead. "Can't we get some different music?" asks Vernon's father, Gil, with a wink.
The next morning, the day of the awards, we meet for breakfast at Urth Caffé in West Hollywood. Vernon brandishes a twice-folded piece of white paper and spreads it flat between his giant Americano coffee and egg sandwich. It's a list of people to thank should he win tonight: "Jagjaguwar… family…friends. I started saying something in my head, and I decided to write it down," he says as he edits with a fountain pen. "[Whitney's death] also puts it all into better perspective. I remember when my grandmother died. I made a mixtape off the radio, but just of 'I Will Always Love You.' And when she died, I put it on repeat and just laid in my room and cried. I must have been eight or nine."He laughs.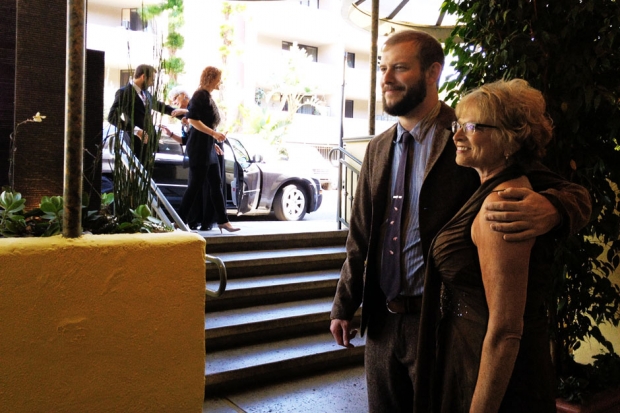 Before long, Bon Iver publicist Matt Hanks arrives with a blue folder under his arm. Together with Vernon's management team—younger brother Nate and Kyle Frenette—Hanks breaks down any number of possibilities and press obligations that await once the telecast begins early that evening.
"Will I be able to get up to take a shit or smoke a cigarette?" Vernon asks with a grin. Hanks nods, reminding him that he'll be expected to be in his seat when his categories roll around. "I literally almost had an anxiety attack walking the red carpet at the Q Awards," he says of the English rock magazine's 2011 award ceremony. "Not into doing it here."
At 1:30 p.m., we meet in front of the hotel to pile into our ride to the ceremonies, a burgundy rental SUV the Vernon brothers picked up at LAX upon arriving Thursday night. After some photos with his mom, dad, and girlfriend, singer-songwriter Kathleen Edwards—who's just stepped off an early-morning flight from Toronto where she played a show the night before—Vernon says he'd prefer to drive. "Everybody good?" he asks the entire car before hitting the gas. "It's better if he drives," Gil says. "My mind is occupied. I'm nervous." While Nate navigates, Justin swerves in and out of traffic, slamming on the accelerator at one point to maneuver around a sedan turning left onto Edinburgh off of Melrose.
"Did you forget your mother's in the car?" his mom, Justine, gasps.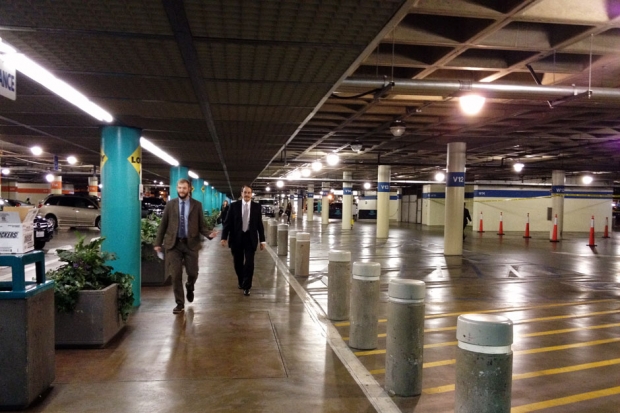 "Mother. Breathe," Justin replies, making eye contact through the rearview mirror.
And as we barrel into the parking garage and through the tunnels to the Convention Center, everyone grows increasingly tense. We're late. Through the sunlit atrium, we rush past fragrant swarms of suits and gowns, into the darkness of the pre-telecast ceremony already underway. Adele's "Rolling in the Deep" is being honored for its second Grammy, Short Form Music Video. "Kinda fitting that Adele is the first win we see, huh?" Vernon says. As his parents take a seat near the front, we stand there in the back, eyeballing the list of categories still to come. Bon Iver is up for Alternative Album of the Year, second to last on the schedule.
When Kanye West picks up three consecutive Grammys for "All of the Lights"— just one of the songs off My Beautiful Dark Twisted Fantasy on which Vernon contributed vocals—the Bon Iver crew meet each win with a fist pump and bursts of applause.
And by the time we're within moments of that first category, Vernon is fidgeting in his seat at stage left, his knees jumping like pistons. They win. Vernon embraces Edwards at his side before rushing with Brian Joseph, his sound engineer, to the podium to accept their first Grammy. Both thank "nominees and non-nominees," and Vernon lets loose with a "Jagjaguwar!" salute to his label as the two head backstage.
When they re-emerge side-stage moments later, on the heels of an already hardware-heavy Foo Fighters party, it's hugs all around. Gil, a mite taller and broader than his son, has tears in his eyes. Justine is squealing as she throws her arms around everyone in the group: "This is so fun! This is so fun! This is so fun!" Amid the handful of well-wishers and fans asking for photos, a small Japanese woman plants her feet square with Justin's. "My name is Lisa Kyoko," she says handing him a business card. "I voted for you. Please stay in touch!" He thanks her, breathlessly, as though the encounter has only compounded the shock.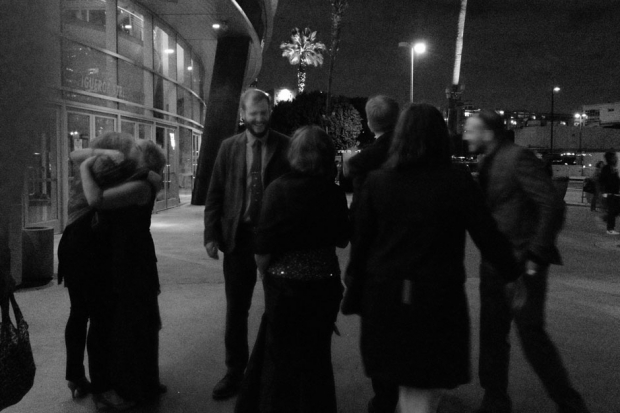 "It's a trip," he says quietly, then, "it's cool." It's not until we walk through the front doors of the Staples Center a few minutes later that it seems to register. "We just won a Grammy, Joe," he says to the guy he deemed his "copilot" while accepting the award. Joseph nods, smiles, and pats his back in return.
The family is separated inside the Staples Center, Justin and Kathleen to the "Diamond" section reserved for artists in the first few rows, the rest to VIP seating, where Gil later says they had trouble hearing announcements over loudmouths seated in luxury boxes nearby. When Adele's "Rolling in the Deep" beats out "Holocene" for Song of the Year, you can see Vernon up on his feet applauding. At 7:27 p.m., during a commercial break, Raitt crouches down in the aisle to pay Vernon and Edwards a visit just before Tony Bennett strides out with Carrie Underwood on his arm. During the course of the evening, Drake will also stop by to say hello, but Raitt's visit leaves an indelible impression it seems. "She kissed me on the lips!" he shouts later on in the night, making sure to apologize to Edwards immediately afterward.
And at 7:34 p.m., Vernon accepts the Grammy for Best New Artist, inserting a soft-throated "sorry" between thank-yous and tributes. Upon returning to his seat, he returns a "holy shit" text with an ecstatic "hahahahahahaha."
We're waiting outside the Staples Center with family and label friends as Justin and Nate re-emerge post-press conference. More hugs abound. Darius Van Arman, one of Jagjaguwar's three label heads, is there with his mother, Farideh. With a slender cigarette holder in her hand, she approaches Justine to say she must have a photo with Justin. And when she does, Darius will have him sign it. And when he does, she will frame it and hang it on her wall. As we walk back to the parking garage, Justin sings small, falsetto snippets of "Rolling in the Deep."
"Fuckin' Adele, man," he says. "Killing it." And after a long talk about which after-party to hit, we find ourselves driving back to the hotel instead for a makeshift, family-friendly gathering. "I saw [retired NBA player] Robert Horry tonight," Gil says from behind the wheel as we ease back into traffic. "Did you see those Lakers banners up in the rafters?"
"I took a piss in the Lakers' locker room," Justin responds coolly.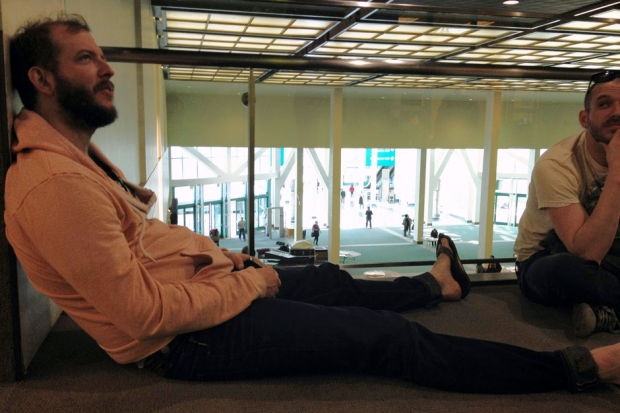 We've taken over the tiny hotel bar and restaurant to have our first meal since breakfast. Justin's receiving congratulatory e-mails from Bill Hader and Superchunk's Mac McCaughan on the East Coast as the Grammys telecast is in full swing now on the West, while Twitter is alight with "Who is Bonny Bear?" cracks. As we inch closer and closer to the West Coast airing of the Best New Artist win, Van Arman asks the bartender if she might turn up the volume. "That was my favorite part of the night," says Justin, referring to the Band Perry and Blake Shelton's tribute to Glen Campbell. "That woman can sing her ass off."
Gil and Justine stand up to slow dance as Bennett and Underwood sink their teeth into "It Had to Be You." And as Justin's name is called again, this time on the television up in the corner, he grows nervous. "This is going to be super awkward," he says as he watches himself take the stage. "Damn, I'm balding." Everyone laughs, no one louder than Vernon himself.
The next day we sit outside Urth for lunch. Edwards is working on a Globe and Mail crossword. Vernon looks ten years younger than he did a day before. "I feel like I know now," he says, his face golden in the afternoon sun. "I realized last night, I'm not the only different one in here. Everyone is different from each other. Nobody has any idea how different we all are. Clearly people saw the name Bon Iver on the screen last night and will never hear the music. Some people saw the name and made an opinion without having heard the music."
His hands are still and he seems calm, as if all that's anchoring him to the ground is the denim jacket on his back. "You can't calculate all that shit, so it weirdly puts it in perspective for you: All you really can do is play guitar and write a song."