Justin Vernon's Christmas dream came true on Saturday night. As promised, Bon Iver performed not only "Beth/Rest," but also "Holocene," both from last year's self-titled record, on Saturday Night Live.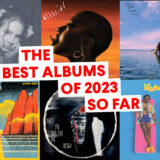 Bon Iver's performance followed Lana Del Rey's oh-so-supposedly-significant appearance a couple of weeks earlier. If you want to wash out the taste of someone who brings out the at-home fans' inner Simon Cowell, it's a good look to book an act that specializes in abstrusely nostalgic soft rock with aspirations toward capital-b Beauty. With all the vague, Kenny G-cheesy prettiness, it was sort of like the musical equivalent of a Thomas Kinkade painting, except a lot more difficult to enjoy ironically.
Which brings us back (sorry!) to Del Rey. Only days after David Letterman praised the singer's still-just-OK TV return in creeptastic fashion, SNL's Kristen Wiig went on "Weekend Update" to mount a defense of the artist who needs defending so badly she's probably going to wind up at No. 2 on this week's Billboard album charts. Taliban jokes! A tired return to the irrelevant authenticity debate! Wrong-headed Bubba Sparxx insults! We've even reached the point where a major TV show suggests criticizing someone who is (successfully) marketing a product on TV for being "weird" is somehow equivalent to criticizing weird-seeming people in real life for just being themselves. Am I the only one who feels kinda bad for Ashlee Simpson right now?