On February 7, French duo Air will release an expanded soundtrack to French cinema pioneer Georges Méliès' 1902 silent film Le Voyage Dans La Lune. First single "Seven Stars," a lavishly textured collaboration with Beach House's Victoria Legrand, has already hit the web, and it extends the Moon Safari veterans' streak of outer-space successes, with pianos, a spoken-word countdown, and Legrand's incantatory vocals.
Now another track from the project, "Sonic Armada," has emerged, set to video footage from the recently re-colored Méliès film. This latest taste of Air's first album since 2009's Love 2 is once again lush, spacey, and in keeping with the lounge-soaked electronic vibe of Air's past stellar work. Where "Seven Stars" is a dynamic, fully fleshed out song, "Sonic Armada" centers on a retro-psychedelic instrumental groove, with a looser, more improvisatory feel. Either way, it's definitely a surreal accompaniment to the vintage footage showing early space explorers' fantastical sword fights with little green moon men.
As Antiquet points out, another song from Air's upcoming Le Voyage Dans La Lune, "Parade," can be purchased on iTunes, though it isn't yet available for streaming.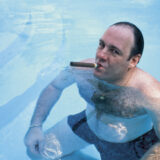 https://youtube.com/watch?v=B2fy7VrP–M%3Ffeature%3Dplayer_embedded