A pair of powerful-voiced indie chanteuses with contrasting styles hit the late-night talk show circuit last night. tUnE-yArDs, the eccentric pan-global folk-pop project of singer-songwriter Merrill Garbus, performed a couple of songs on Jimmy Kimmel Live! and the guitar-oriented singer-songwriter Sharon Van Etten made her TV debut, backed by a few indie-rock all-stars, on Late Night With Jimmy Fallon.
Garbus made her own TV debut last year on Fallon with a little help from the Roots, performing the sirens-blaring gentrification rumination "Gangsta," from last year's w h o k i l l (one of SPIN's 50 Best Albums of 2011). The face-painted vocal dynamo returned to Kimmel with two saxophonists and a bass player to perform another couple of tracks from the album. On cryptic commercialism riff "Bizness," she introduced the late-night audience to her off-kilter blend of elastic vocals, looped kitchen-sink percussion, and loping grooves. tUne-yArDs also gave an exuberantly squawking rendition of busker-friendly discordant-ukulele jam "You Yes You."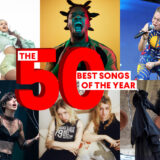 Van Etten's performance, while vastly more understated, might actually have represented the bigger breakthrough. She captivated with the smoky midtempo rocker "Serpents," from her forthcoming third studio album (and first for Midwestern indie Jagjaguwar), Tramp, which comes out on February 7. The studio version features contributions from some indie-rock heavyweights — the National's Aaron Dressner, Wye Oak's Jenn Wasner, the Walkmen's Matt Barrick, and Doveman's Thomas Bartlett — and it looks and sounds like at least a few of those folks were onstage with Van Etten again last night. A tour de force of a kind of music that's easy to take for granted but hard to do this movingly, it's an arresting preview of the New Jersey native's latest record (via The Audio Perv).
Fred Armisen, who stars on TV's Portlandia alongside Sleater-Kinney and Wild Flag member Carrie Brownstein (and wore metal makeup for SPIN), also stopped by Fallon: