Now that those New Year's hangovers (and subsequent existential chills and sniffles) are starting to heal, it's time to turn 2012 from a potential Mayan catastrophe into a jubilant musical carnival. To that end, SPIN's editors have chosen 25 highly anticipated albums that should keep your heart full and the specter of the Long Count calendar at bay. Enjoy!
Snow Patrol, Fallen Empires(Island)
Release date: Jan. 10
Ideally suited, it would seem, to release records during the wintry months, Snow Patrol return touting their sixth studio album as a break from form — or at least a tasteful extrapolation. Glimmers of electronic music figure in the pent-up, propulsive singles "Just Say Yes" and the title track; hints of more elaborate arrangements come by way of collaborative help from composers Owen Pallett (Final Fantasy, Arcade Fire) and Nico Muhly (Jonsi, Antony and the Johnsons). The overall sound of the album falls in line still with Snow Patrol's post-Radiohead/post-Coldplay allegiances, but their sense of scale has widened to create a more evocative tableau.
Fast Fact: Maybe Snow Patrol's comparatively expansive new palette on Fallen Empires owes to the art of the mix. The band's previous release, an installment of the artist-curated compilation series LateNightTales, included songs by Captain Beefheart, Arthur Russell, and dubstep devotee Martyn.ANDY BATTAGLIA
The Big Pink, Future This(4AD)
Release date: Jan. 17
Those expecting the Big Pink to have a sound redolent of '60s roots-rock will be bewildered by this London-based duo whose name borrows from the pink house in upstate New York where Bob Dylan and the Band legendarily recorded together. Instead, Robbie Furze and Milo Cordell offer up anthemic rousers of a more modern extraction, with rock-aligned sounds surrounded by electronics, samples, and a yearning to make certain kinds of synthesized beats boom. The first single, "Hit the Ground (Superman)," enlists a sample of Laurie Anderson's 1981 hit "O Superman"; the sound of the rest was aided by producer Paul Epworth (Florence and the Machine, Adele).
Fast Fact: Big Pink member Milo Cordell's own Merok label has put out U.K. releases by acts including Teengirl Fantasy, Blondes, Titus Andronicus, and Salem.A.B.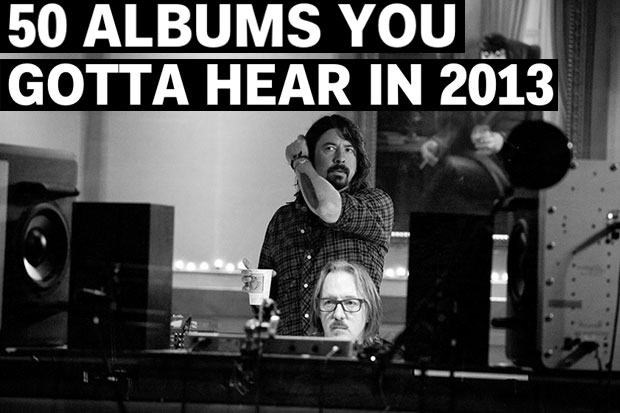 The Big Pink, "Stay Gold"

Escort, Escort(Escort)
Release date: Jan. 17
Escort make period-faithful disco so faithful it can warp one's sense of time. Everything about the New York band's sound owes to disco's early days, from the flicker of the rhythm guitar to the dry clasp of the hi-hat to horns that blow like there's a parade outside your window. It's serious and studious, a tribute to the visionary underground artists who developed the inner workings of disco before all the polyester and dancing ducks glommed on. It's also spirited and resolutely fun — a celebration of studio craft that works hard not to forget how to celebrate. "Caméleon Chameleon" stands as 2012's most danceable singles about lizards, and other tracks like "Cocaine Blues" and "Starlight" reimagine the spaciousness of '70s disco without sounding overly slavish to the source material.
Fast Fact: In 2010, the National Ballet School of Canada staged a flash-mob dance at a mall in Toronto to Escort's remix of Feist's "Feel It All." A.B.
Chairlift, Something(Columbia)
Release date: Jan. 24
Chairlift emerged from a densely populated Brooklyn music scene with a crisp, clear, melodic synth-pop sound on 2008's Does You Inspire You. Textured synths here, (more and less) memorable melodies there — the sort of fundamental skills that serve a young band well, as Chairlift learned when their song "Bruises" was featured in an iPod Nano commercial. That relative success upped the stakes for their follow-up, even with the departure of founding member Aaron Pfenning. Now a duo, Caroline Polachek and Patrick Wimberly worked in New York and London with producers Alan Moulder (Depeche Mode, My Bloody Valentine, Nine Inch Nails) and Dan Carey (Hot Chip, Franz Ferdinand, Kylie Minogue). The recent single "Met Before" sounds decidedly confident — a pop song seeking to soar.
Fast Fact: Chairlift's Patrick Wimberly produced the 2011 album Relax by sly, wry hip-hop group Das Racist.A.B.
Chairlift, "Met Before"

Craig Finn, Clear Heart Full Eyes (Vagrant)
Release date: Jan. 24
Craig Finn writes stories meant to be shouted. As a member of the revved-up bar band the Hold Steady (and, before that, the artier, punkier Lifter Puller), he has penned some of pop music's most stirring, imagistic, and narratively inclined lyrics — and he's done so with a lot of what we might collectively agree to call "balls." The Hold Steady is no precious, delicate orch-pop band, and so one would expect no different from Finn in solo mode — even if he does describe the songs on Clear Heart Full Eyes as "a little quieter and perhaps more narrative." To make good on his solo urge (temporary, as the Hold Steady is still very much together), he traveled from New York to Austin, Texas, for a few weeks, thinking of new ways to arrange his spiels with Mike McCarthy, the producer of Spoon.
Fast Fact: Craig Finn likes baseball, a lot — enough to write a fight song for his beloved Minnesota Twins.A.B.
First Aid Kit, The Lion's Roar (Wichita)
Release date: Jan. 24
Two Swedish sisters with an umlaut in their name — such is the makeup of First Aid Kit, a group devoted to indie-ish country-rock as filtered through a tidy sense of Scandinavian taste. The sisters Söderberg speak of Bright Eyes as an early influence, and they got their start, in part, by covering Fleet Foxes ("Tiger Mountain Peasant Song"). That was all a few years ago, though, and now First Aid Kit are primed to break bigger with The Lion's Roar, their first album recorded in the U.S. — with producer Mike Mogis of Bright Eyes, no less. The first single, the title track, strikes a rich mix of dark and light, with strains of weightless, airy folk run up against dark, loping, funereal rock. Another song, "Emmylou," pays tribute to the enigmatic country great Emmylou Harris.
Fast Fact: White Stripes mastermind Jack White produced a First Aid Kit 7-inch last year as part of his own label's "Blue Series."A.B.
First Aid Kit, "Emmylou"

Cloud Nothings, Attack on Memory (Carpark)
Release date: January 24
In just two years, Cloud Nothings have germinated from a basement pastime that churned out buzzy cassette recordings to a fully realized fount of airtight punk-pop. After last January's self-titled debut, 20-year-old Dylan Baldi — finding his own jams a bit toothless — entered the studio with his touring band, sights set on a fiercer, looser group of songs that would allow for a more dynamic live show. They exited with Attack on Memory, and it's a startling shift: There's a fraught, near-nine-minute epic called "Wasted Days," plus a darker, more ferocious churn beneath all the jangle. The latter is something of a new trick for Baldi, an imprint no doubt left by the album's acting producer — Steve Albini.
Fast Fact: Baldi's first band in high school, the Volts, played only Green Day covers. M.S.R.
Cloud Nothings, "Stay Useless"

Lana Del Rey, Born to Die(Interscope)
Release date: Jan. 31
Lana Del Rey became an online lightning rod last year, for reasons that weren't always very clear. Reacting to offerings like the drolly dramatic torch song "Video Games" (and its haunting, highly stylized sepia-tone video), detractors laid into Del Rey's cosmetic appearance and suspicious provenance, as if both haven't been building blocks of pop music since the beginning of time (or the inception of Billboard). Either way, she comes across as stranger, strung-out Norah Jones, with a smoky voice and a knack for siiiiinngging ssllloooow when a song calls for it. Her mysterious comportment has made her an Internet institution, but it remains to be seen if Born to Die will flower or wilt when exposed to the rest of the world.
Fast Fact: Lana Del Rey is from Lake Placid, New York, which could be described as a sort of East Coast Twin Peaks.A.B.
Lana Del Rey, "Video Games"

Leonard Cohen, Old Ideas(Columbia)
Release date: Jan. 31
Somehow, after five decades as one of the coolest poet-singers alive, Leonard Cohen keeps getting cooler. Fans of doleful, lyrical songwriting have a vast storehouse of Cohen records to mine, going back to his classic debut Songs of Leonard Cohen; his evolution from spartan '60s folkie to debonair lounge lizard remains a working model for how an artist can smartly evolve over time. A big comeback tour in 2008 resurrected Cohen after a long hiatus (including five years at a silent Buddhist retreat), and Old Ideas will mark his first new batch of songs since. The single, "Show Me the Place," features a classic Cohen sentiment: "Show me the place where the word became a man / Show me the place where the suffering began."
Fast Fact: Cohen has the insides of his trademark fedoras marked by name, as evidenced by a close-up photo on a weird blog-post about Cohen's chapeaus here.A.B.
Photo by Dominique Issermann
Van Halen, A Different Kind of Truth (Interscope)
Release date: Feb. 7
There may be no band less in need of an introduction than Van Halen, even this far down the line. Actually, it's weird to consider these guys simply a "band" — they're a thing, an operation, an enterprise, and a phenomenon. Certainly David Lee Roth is, all by himself, so it's easy to understand the chatter attending the notion of all the old dudes getting back together in earnest. (Well, not all, as bassist Michael Anthony has been replaced by Eddie Van Halen's son, Wolfgang.) Whether any prospective new Van Halen song could stand to mean anything in 2012 remains to be seen, but those late-'70s classics sound just as gleaming as ever.
Fast Fact: David Lee Roth's autobiography, Crazy from the Heat, will karate kick and jump off the shelves all over again. A.B.
Die Antwoord, TEN$ION(Zef Recordz)
Release date: Feb. 7
The pop world wasn't exactly waiting for a heavily tattooed, asymmetrically coiffed South African "rap-rave" group when Die Antwoord broke out in 2010, but there's always something good to be said for a genuine surprise. Really, there isn't anything not insanely weird about Die Antwoord, whose members — Ninja, Yo-Landi Vi$$er, and DJ Hi-Tek — are so hyper-real as to bring into question what might or might not be a put-on. For their second album, TEN$ION, the group returned to South Africa and promptly raised the bar for bizarre antics. Judging by the album's first single, "Fok Julle Naaire," though, pop potential remains: Its video features a hairy tarantula and an extended refrain comprising the unnerving words, repeated as an unlikely mantra, "DJ Hi-Tek will fuck you in the ass."
Fast Fact: Frontman Ninja evidently likes underwear marked by Pink Floyd and SpongeBob, both of which feature on boxers for sale at a Die Antwoord fan-club site here.A.B.
Of Montreal, Paralytic Stalks(Polyvinyl)
Release date: Feb.7
Of Montreal mastermind Kevin Barnes remains devoted to the peculiar project of consolidating every song in every style that's ever passed through his head. His music was decorous and complex when he started off as a meek and twee indie-rock songsmith, but Barnes' work in recent years has swelled and expanded in ways that nobody could have forecast. Paralytic Stalks follows a string of strong and galactically progged-out art-rock opuses (2010's False Priest, 2008's Skeletal Lamping, and 2007's Hissing Fauna, Are You the Destroyer?), and nothing from Barnes' past suggests he's about to dial it down. To wit, the first offering from Paralytic Stalks: a seven-minute polyglot epic called "Wintered Debts," with flickers of funk guitar and weird orchestral swells reminiscent of the avant-garde composer Krzysztof Penderecki, among many other things.
Fast Fact: Along with members of the mythic band Neutral Milk Hotel, Barnes had a hand in a cool and mysterious collage album from 2001 credited to Major Organ and the Adding Machine.A.B.
Of Montreal, "Dour Percentage"

Sharon Van Etten, Tramp (Jagjaguwar)
Release date: Feb. 7
Sharon Van Etten sounds like everyone and no one all at once. Her voice is deep and glimmers with a rusty hue, and her preference for musical backing tends toward strummed and jangling sashays delivered with a conventional folk-rock lilt. All that suits her well as a rootsy indie chanteuse — well enough, even, that she's found notable fans in Bon Iver's Justin Vernon and the National's Aaron Dessner. For her third album, Van Etten teamed with Dessner and worked up a batch of songs in his Brooklyn garage studio. Other artists who pitched in include Beirut's Zach Condon, Wye Oak's Jenn Wassner, and Doveman's Thomas Bartlett.
Fast Fact: One of Van Etten's bonds with Justin Vernon stems from a live show they concocted in tribute to songs recorded by the late, great folklorist Alan Lomax.A.B.
Sharon Van Etten, "Serpents"

Mark Lanegan Band, Blues Funeral(4AD)
Release date: Feb. 7
Mark Lanegan is one of those rare rockers who takes on more gravitas with age. Some formerly idolized frontmen simply limp along, others end up looking like clowns — Lanegan, for his part, just bellows deeper and darker, in a way that makes sense for his changing context. For this latest namesake album, the former Screaming Trees frontman holed up in a Hollywood studio with a cast of collaborators including longtime compatriots Josh Homme (Queens of the Stone Age) and Greg Dulli (Twilight Singers, Gutter Twins). If the title Blues Funeral doesn't already suggest a sort of sparse, dirge-like sound, scope some sample song titles: "The Gravedigger's Song," "Bleeding Muddy Water," "Deep Black Vanishing Train."
Fast Fact: Lanegan's cover of "The Beast in Me," written in the '90s by Nick Lowe and made popular later by Lowe's former father-in-law Johnny Cash, turned up in The Hangover Part II. A.B.
Mark Lanegan Band, "The Gravedigger's Song"

Band of Skulls, Sweet Sour (Electric Blues/Vagrant)
Release date: Feb. 21
The second album by U.K. trio Band of Skulls is aptly titled. Sweet and Sour balances sleek, bluesy '70s-rock swagger (title track, "The Devil Takes Care of His Own") and softer, sweeter, more reflective tunes ("Close to Nowhere," "Hometowns"), as guitarist Russel Marsden and bassist Emma Richardson share lead vocals, shifting from discordant smirks to poignant, nostalgic musings. The songs carry an unmistakable weight, but Band of Skulls also flash a sense of humor — see the video for "The Devil Takes Care of His Own," which involves, yes, ninjas. Sweet and Sour is the rare modern-rock album that can span cliques or generations, uniting hippies and hipsters, kids and parents.
Fast Fact: Band of Skulls' universal, slightly-retro appeal makes them prime licensing fodder, with songs already being used in The Hangover Part II, 21 Jump Street, and a Hugo Boss commercial. Look out, Black Keys!GABRIELLA GEISINGER
Nicki Minaj, Pink Friday: Roman Reloaded (Young Money/Cash Money/Universal)
Release date: Feb. 14
"VALENTINES DAY, biittcchh!" — so went Nicki Minaj's Twitter announcement of her new album, which also specified: "Its not called Roman Reloaded. Its called PINK FRIDAY: ROMAN RELOADED!!!!!! 4 WORDS!!!! Love u guys soooo much!!!" That's a lot of love to handle, but Minaj's glee seems justified after a year in which she soared upward, on her own weird, shock-haired terms, and became one of the biggest pop stars in the game. Her second album follows 2010's Pink Friday, a crossover hit that played schizoid home to a number of different Minaj-embodied characters — including Roman Zolanski, a notably angry young man, according to a comprehensive Minaj-personae tabulator, whose "heart pumps out rage into his veins." Based on the single, "Roman in Moscow," he's not going to be finding peace or serenity anytime soon.
Fast Fact: It has been speculated that Nicki Minaj might join Madonna onstage during her performance at this year's Super Bowl. A.B.
Heartless Bastards, Arrow(Partisan)
Release date: Feb. 14
Heartless Bastards are an American band that hearkens back to a time when the notion of such a thing would, obviously, mean rootsy rock'n'roll. The group's gritty sound pulls from garage rock and strains of folk and blues — all that brooding, moody stuff. And it coalesces around the striking voice of Erika Wennerstrom, a singer who chews every word she utters before washing down her thoughts with whiskey. Arrow, the Bastards' fourth album, found its form with the help of producer (and Spoon drummer) Jim Eno. And it all came together after Wennerstrom "spent alone time in Arkansas, a lake cabin in the Allegheny Mountains, and at a ranch in West Texas." How's that for an American road trip?
Fast Fact: Heartless Bastards got their start thanks in part to a demo handed over to Patrick Carney of fellow Ohio rockers the Black Keys.A.B.
Heartless Bastards, "Parted Ways"

Sleigh Bells, Reign of Terror(Mom+Pop)
Release date: Feb. 21
Sleigh Bells do not make delicate music. The Brooklyn-based duo would rather bash and blast and red-line everything until the sound turns scabby and scuzzy. Their 2010 album, Treats, counts as one of the more momentous debut full-lengths of the past few years, and it seemed to come screaming out of nowhere. But Reign of Terror is seriously anticipated, not only by supporters, but also by those who saw the twosome as a bit of a noise-pop gimmick. Their new single, "Born to Lose," answers any doubters, offering an awesome, convulsing attack that somehow evokes both '80s hair metal and '90s shoegazers Lush.
Fast Fact: Sleigh Bells signed their first record deal with M.I.A.'s label N.E.E.T. after she was hipped to their existence by director Spike Jonze. A.B.
Sleigh Bells, "Born to Lose"

Estelle, All of Me(Homeschool/Atlantic)
Release date: Feb. 28
Estelle hails from London, where her sassy pop-soul slots in with a wider variety of genres and styles, but in the U.S. but she's still something of a chameleon. She can sound old-fashioned and brushed by futurism at the same time, and she casts herself in a variety of roles with a voice that's equal parts agile and elastic. Her 2008 breakout single "American Boy" was graced by Kanye West's presence, and her second album features guests ranging from Rick Ross to Janelle Monáe. The Teflon Don appears on the bumptious "Break My Heart," while a newer single, "Thank You" slows down and tears up with lines written by Akon.
Fast Fact: Estelle's mother hails from Senegal, her father from Grenada.A.B.
Chiddy Bang, Breakfast(Virgin)
Release date: Feb. 28
Hip-hop duo Chiddy Bang busted out by rapping over samples of novel indie fare (Sufjan Stevens, MGMT, Passion Pit) on various singles and mixtapes, then scored studio time with Pharrell Williams for their full-length, major-label debut. The first official single, "Ray Charles," from the repeatedly delayed Breakfast, features a spirited mix of old-fashioned piano vamps, sassy background vocals, and fun-loving rhymes from a couple of Philly dudes who just sound happy to be here.
Fast Fact: Last year, Chidera "Chiddy" Anamege claimed the Guinness World Record for Longest Freestyle Rap and Longest Marathon Rapping session, by spitting nonstop for nine hours, 15 minutes and 15 seconds.A.B.
Nite Jewel, One Second of Love (Secretly Canadian)
Release date: March 6
Ramona Gonzalez first earned notoriety for posting lo-fi, unobtrusively funky music (and arty, icky videos) to her Myspace. Good Evening, her 2009 debut full-length as Nite Jewel, sounds every bit the bedroom recording, with Gonzalez' voice buried beneath a thick layer of fuzz, her guttural wail occasionally bursting through, but never long enough to make a lasting lyrical mark. That all changes on One Second of Love, with her crisp vocals pushed front-and-center, morphing from a sweet trill to a sultry purr to a smooth croon. She offers the same grab bag of genres — '80s electro-pop, disco, R&B — but with significantly more sheen. The album's first single and title track, with its irresistible groove and swaying synth line, shows how far you can go if you step out from behind closed doors.
Fast fact: Gonzalez's husband, Cole M. Gref-Neill, formerly of Ariel Pink's Haunted Graffiti, produced One Second of Love, and has performed as part of Nite Jewel's live act. ALYSSA NOEL
Nite Jewel, "One Second of Love"

The Men, Open Your Heart (Sacred Bones)
Release date: March 6
Since forming in 2008, brutish Brooklyn punks the Men have made a point of mixing it up, whether that meant the guitars-and-bass frontline of Nick Chiericozzi, Mark Perro, and Ben Greenberg strafing a variety of styles or operating like a combative phalanx (they're also a trio of intensely obsessive record-collectors/songwriters). Last year's spectacular Leave Home was rife with menace and, at times, called to mind an in-studio brawl. Open Your Heart expands the Men's already dense symphony of garage thrash, with flecks of country twang and surf riffage. Plus, they're spurred on (for the first time on record) by drummer Rich Samis, who became a Man in late 2010.
Fast Fact: The Leave Home track "L.A.D.O.C.H.," an acronym for the "Life and Death of Chris Hansell," was recorded in a former Catholic school basement by Ben Greenberg, who has since replaced bassist-singer Hansell in the band. M. SEAN RYAN
Spoek Mathambo, Father Creeper (Sub Pop)
Release date: March 13
When a sinister voice on Spoek Mathambo's 2010 debut album Mshini Wan rasps, "Don't be scared," in an eerie rumble, it's more of a taunt, as the South African rapper/DJ depicts a dark, skuzzy underworld full of "big fuckin' guns," pirates wielding weapons, and child soldiers shooting AK47s. Mathambo sings a nearly identical line in "Dog to Bone," one of the highlights of his sophomore effort, Father Creeper, but sunny riffs and a shimmying beat change the meaning entirely. Penned while Mathambo (real name: Nthato Mokgata) toured the world, the album still features unsettling stories from his homeland, but there's also a palpable feeling of hope amongst the fuzzy guitars and hectic electro-rap.
Fast Fact: Mathambo's wife, Ana Rab, a.k.a., Gnucci Banana, wrote the lyrics for first single, "Put Some Red on It," about conflict diamonds.A.N.
Spoek Mathambo, "Put Some Red On It"

Spiritualized, Sweet Heart Sweet Light(Fat Possum)
Release date: March 20
The incalculably influential psych-rock band Spacemen 3 (makers, famously, of a record called Taking Drugs to Make Music to Take Drugs To) has become even more influential in recent years. Sonic Boom, one of the group's co-leaders, has been back in action producing and collaborating on albums by Panda Bear and MGMT. Then there's Jason Pierce, a.k.a. J. Spaceman, and his long-runnng band Spiritualized, creators of a special sort of strung-out gospel from the outer edges of the cosmos. The sound of Spiritualized has contracted and swelled several times since their first album in 1992, but it's always been graced by a churchly glow, even when Pierce is lost inside his own head. For Sweet Heart Sweet Light, the band spent two years recording and another year mixing — all for a sound that Pierce says tips toward free-jazz saxophonist Peter Brötzmann, guitarist Chuck Berry, and zoned-out Beach Boys Brian and Dennis Wilson.
Fast Fact: J. Spaceman worked on the soundtrack to Harmony Korine's film Mister Lonely, a surreal meditation on impersonators of celebrities like Michael Jackson, Marilyn Monroe, and Charlie Chaplin.A.B.
The Shins, Port of Morrow(Aural Apothecary/Columbia)
Release date: March 20
The Shins are so solid and dependable that they've almost become limited by their own solidity and dependability. The band, led by James Mercer (now the only remaining original member) is well-liked and successful, of course, but there are also many for whom the Shins represent all that is middle-of-the-road, or else just meh, in rock these days. It's been a while, though — nearly five years, in fact, since theirlast album, 2007's Wincing the Night Away — and in these volatile times, consistency has its inherent value. Mercer hasn't been out of the spotlight; the Shins have played live, and Mercer himself worked with Danger Mouse on the project known as Broken Bells. But still, Port of Morrow — recorded in Los Angeles and Portland with producer Greg Kurstin — will mark a momentous return.
Fast Fact: The cover art for Port of Morrow was designed by Jacob Escobedo, who has also developed graphics for Adult Swim and Vampire Weekend.