A year ago, a Sharon Van Etten show at New York's tiny Mercury Lounge would've seemed just about right: up-and-coming East Coast singer-songwriter with a reputation for a solid live show playing to a small but growing fanbase. But that was before the onetime indie label publicist spent a year building up her rep — opening for pals the National, working the festival circuit, making her network TV debut on Jimmy Fallon. Last night's gig was just a little warmup before Van Etten embarks on an international headlining tour in support of her much-anticipated third album, Tramp (due February 7). Judging by her brilliant performance and the electric mood in the room, she isn't likely to be playing spaces this intimate much longer.
With all the buzz and high expectations, it was clear that neither Van Etten nor her fans knew quite how to process all the newfound attention. It was hard to tell who was more awkward on Wednesday night: the crowd, who stood in such reverent silence you could almost hear Van Etten gulping her beer between songs, or Van Etten herself, who limited her banter to charming, self-deprecating comments ("Thanks for coming out on hump day, I know you have a lot to do") and appeared to be trying to hide out in a demure black sweater and dark pleated pants.
Though she spent most of the show with her hair draped over her face, Van Etten wasn't shy about unleashing her gorgeous, limber voice and showcasing her sharp guitar playing. The show was basically a tune-up, a chance for Van Etten and her new band to work out the kinks of the latest songs, most of which she said they were playing in public for the first time. But besides a shortage of guitar straps, they tore through Tramp front to back with ease, switching breezily from the slippery Liz Phair-esque rock of opener "Warsaw" to bluesy, ukulele folk to sinister pop, like standout "Serpents." Though Van Etten doesn't throw a lot of wrinkles into her songs, she did break out an Omnichord, which looks like an electric autoharp, and is no doubt what the robotic overlords of the future will use to play plaintive love songs about the ironic loneliness of the binary language.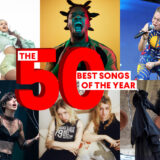 It seemed like nobody even dared to breathe during delicate tunes "I'm Wrong" and "Give Out," which featured perfectly pitched harmonies and counter-melodies from keyboardist/bassist/guitarist Heather Woods Broderick. And Van Etten let our her biggest relieved smile not at the end of closer "Joke or a Lie," but at 8:48 p.m., when she was informed she had 12 rather than two minutes left to her set. "We can finish the album!" she said and got right back to business.