Prog-rock fans could be in for an exciting 2012. Earlier this month came word that At the Drive-In, the influential pre-Mars Volta band of Cedric Bixler Zavala and Omar Rodríguez-López, would be reuniting after an 11-year break to perform at Coachella. Now, there's more: The Mars Volta will be releasing a new album of its own, the band has revealed.
The Mars Volta's sixth album, Noctourniquet, is set to arrive on March 27. Spanning 13 tracks, the follow-up to 2009's Octahedron ventures into new terrain for the group, including "hypnotic melodies and borderline electro-ambient washes," according to a press release. Given that this is a Mars Volta record, Bixler-Zavala's lyrics are ostensibly linked to a story, in this case involving such inspirations as " '80s U.K. alt-rockers the Godfathers, Superman comic nemesis Solomon Grundy, and the Greek myth of Hyacinthus." So, that's the proto-Britpop guitar band behind "Birth, School, Work, Death", a zombie supervillain, and a boy lover of the god Apollo who fell to his death trying to catch a discus — who hasn't heard this one before?
Below, find the Noctourniquet track list, along with fan-recorded live versions of a handful of the songs.
1. "The Whip Hand"
2. "Aegis"
3. "Dyslexicon"
4. "Empty Vessels Make the Loudest Sound"
5. "The Malkin Jewel"
6. "Lapochka"
7. "In Absentia"
8. "Imago"
9. "Molochwalker"
10. "Trinkets Pale of Moon"
11. "Vedamalady"
12. "Noctourniquet"
13. "Zed and Two Naughts"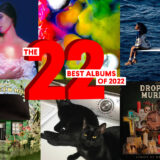 https://youtube.com/watch?v=BBb0n_5LUYw%3Fversion%3D3%5B
https://youtube.com/watch?v=BBb0n_5LUYw%3Fversion%3D3%5B
https://youtube.com/watch?v=rN7ZaddTmcs%3Fversion%3D3
https://youtube.com/watch?v=X7DGi6DMVFg%3Fversion%3D3