Spiritualized's Sweet Heart Sweet Light was originally announced with a March 19 release date, but according to band mastermind Jason Pierce, the recent news that the English space-rock veterans' seventh album would be delayed a few weeks — despite advance copies already being sent out — is simply the result of a long-planned bait-and-switch. "I had the rather foolish idea last November that I could deliver the record that's been sent out and keep working on the real version," says Pierce, speaking on the phone from his Manhattan hotel room. "I'd meet the delivery date they need for reviews and things like that and nobody would be any the wiser that I'd be carrying on with the mixing."
So, erm, the version of the (very good) album that we've been listening to is not the version that fans will eventually hear? "I think it's quite different," explains Pierce. "People say that all the little mixing moves I'm doing now are just for myself, but to me they're no different than the mixing moves I did at the start of the process. Balancing things is what mixing is. Some bits are more realized and closer to what I wanted them to sound like, but I'm in the unenviable position now where the [album] that's out there isn't finished."
See beautiful photos from Spiritualized's recent show at the Royal Albert Hall.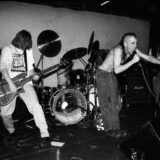 Pierce isn't particularly worried, though, about confusing reviewers by having these quasi-completed version of Sweet Heart kicking around. "With the reviews," he scoffs, "sometimes it's like they've got a different album anyway."
The album will likely now see a late-March or early April release. Just don't ask Pierce if it's hard for him to resist the urge to keep tinkering with his majestic sounds. "Tinkering?" he says irritably. "Is that what you think I'm doing? Tinkering?" No no no no. Silly question. Poor choice of words.
Regardless, barring any wholesale changes, when Pierce is done doing what he needs to do, Sweet Heart Sweet Light is shaping up to be another stellar entry in the band's beautiful catalog.