The last time Carrie Brownstein and Janet Weiss appeared on the Late Show With David Letterman was 2006, when they performed devastating The Woods cut "Jumpers" with their iconic former band Sleater-Kinney. They returned to the Late Show stage Tuesday night with Wild Flag, their current group with ex-Helium leader Mary Timony and former Minders keyboardist Rebecca Cole, to play spring-wound ode to music "Romance," from the band's excellent self-titled debut. "We love the sound," they sang in urgent multi-part harmonies, amid leg-kicking guitar-fuzz heroics and pummeling rhythms, and their hosts understandably seemed to agree — Paul Shaffer declared them "my new favorite band," so, there's that. Watch it, and the arguably even more intense Sleater-Kinney clip, right here.
https://youtube.com/watch?v=gYAitpi6Dhg%3Fversion%3D3
On a more random note, former R.E.M. singer Michael Stipe made a cameo on The Colbert Report last night as part of a recurring gag. In early November, host Stephen Colbert literally put Michael Stipe on his shelf, lamenting the break-up of Stipe's hugely influential band. Then Colbert, Brian Eno, and the still-shelved Stipe busted out their rendition of "Lean on Me."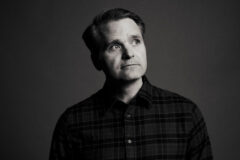 On Tuesday night, Stipe showed he's still sitting on Colbert's shelf. As the host was in the midst of mocking Donald Trump and his ridiculous "hair," Stipe chimed in, "Hey-o!" To which Colbert shot back, "Michael, please, this is important." And that was that. We guess promoting a best-of album by a now-defunct band must be tough. Watch it below (fast-forward to around the 2:30 mark).
Meanwhile, over on Jimmy Kimmel Live!, Death Cab for Cutie showed up to promote latest album Codes and Keys, which totally misled us about the state of frontman Ben Gibbard's now-ended marriage to Zooey Deschanel. With a beard and a short haircut that made him look uncannily like Titus Andronicus's Patrick Stickles, Gibbard led guitarist-producer Chris Walla and Co. through the stately reassurance "Underneath the Sycamore" and the "Float On-"-like modern rocker "You Are a Tourist," which both benefit from a certain bittersweet tinge in their new, post-Zoey context.
https://youtube.com/watch?v=nPKihQyIkM4%3Ffeature%3Dplayer_embedded
https://youtube.com/watch?v=e17Ck_wo8cE%3Ffeature%3Dplayer_embedded