Stephen Colbert forgot to ask the Black Keys the big question: Why did they, like Coldplay and Adele before them, decide not to make their new album available on Spotify, Rhapsody, MOG, Pandora, and other streaming services? Well, the blues-rock heroes' drummer, Patrick Carney, has provided an explanation, and it's refreshingly diplomatic and reasonable. Watch the clip below.
"We decided for this album to not allow music services to stream the entire album, because it's becoming more popular, but it still isn't at a point where you're able to replace royalties from record sales with the royalties from streams," Carney told VH1. "So it felt unfair to people who purchased our album to allow people to just go on a website and stream the album for free whenever they wanted."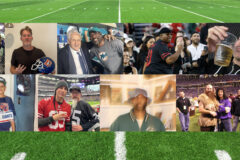 For smaller acts, streaming services may make sense, Carney allowed, and he left open the door to streaming albums that may come after new one El Camino. "For a band that makes a living selling music, it's not at a point yet to be feasible for us," he said. "It's set up to be a little bit more fair for the labels than it is for the artists, I think."
While streaming services can be great for consumers — we even use Spotify links in our 50 Best Albums of 2011 list — Carney isn't the first musician to complain about their impact on artists. Rolling Stone points to some industry tabulations that it takes at least 100 listens on a streaming service for an artists to earn the same amount of money that would come from the purchase of a single download. By another calculation, it would take more than four million streaming listens per month for an artist to earn as much as he or she would working the minimum wage for that month.
What's more, the Black Keys, Coldplay, and Adele are only the biggest names to shun the streaming services. Last month, U.K. music distributor STHoldings pulled more than 200 indie labels off of Spotify, Rdio, and other streaming services, complaining about the services "cannibalizing" their digital sales. Executives from the streaming services, meanwhile, have blamed any perceived lack of artist income on bands' deals with their labels. The debate doesn't appear likely to be resolved anytime soon.
In the meantime, El Camino can't be heard in its entirety on Spotify or its competitors. Lucky for fans, though, lead single "Lonely Boy" can, as Carney pointed out in the interview. Or you could just watch the song's still-great video, starring part-time security guard Derrick T. Tuggle, right here: