Since 1988, R.E.M. fan club subscribers have received a members-only holiday single ever year, including a 1998 split with Radiohead on VHS (!). Since the band split in September, this year's 24th fan-club single is presumably their last. The release started showing up in mailboxes late last week, Slicing Up Eyeballs notes.
a href="https://www.spin.com/gallery/out-time-four-decades-rem" Target="blank">Out of Time: look back at four decades of incredible R.E.M. photos.
Unlike R.E.M.'s recently released retrospective Part Lies, Part Heart, Part Truth, Part Garbage 1982-2011, the single includes no new material. Nor does it include anything as remarkable as the return of drummer Bill Berry, who did just that on cover songs for the past two years' fan-club singles. Instead, the 2011 holiday offerings consists of a pair of live tracks, "Perfect Circle" and "Life and How to Live It."
Both songs have a valedictory quality and function nicely here as a modest goodbye wave before R.E.M. rides off into the sunset (or spends an eternity perched on Stephen Colbert's shelf, one or the other). "Perfect Circle," from 1983 debut Murmur, could function as a tribute to Berry, who the band has said was the main songwriter behind the obliquely yearning, piano-based ballad; the version here, from a London set on August 30, 2008, is relatively faithful to the original. Autumnal folk-rocker "Life and How to Live It," from 1985's Fables of the Reconstruction, appears in a hard-charging performance from band's last show, on November 18, 2008. R.E.M.'s last words on record, then, in a confident twist on the album version: "I will write a book / It will be called 'Life and How to Live It.' " The End?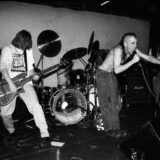 See Also:
• SPIN's 10 All-Time Favorite R.E.M. Moments
• R.E.M.'s Mike Mills on the Band's Most Underrated Record