Kim and Thurston broke up, Lulu happened, and somewhere in between everybody got pepper-sprayed: 2011 has been a fucked up year all around, but SPIN is proud to at least end it all on a Fucked Up high note.
The cover of our January/February issue features the contorted mug of Fucked Up frontman Damian Abraham and a blurred out swear word because Fucked Up's 78-minute hardcore opera David Comes to Life is SPIN's Album of the Year! It perfectly matched our love-during-tumult moods and, you know, it's pretty much the gnashing, barking antidote to Foster the People. SPIN senior editor David Marchese met the band in Toronto for the cover story, wherein he tries to untangle its knotty narrative as well as the the complex interband relationships that might make this record their last.
The story comes on the final pages of the issue, which reads like a slow, Beyoncé-style countdown of our favorite records, occasionally taking detours to talk to some of the honorees — including (spoiler!) Black Keys, Girls, Liturgy, Wild Flag, EMA, and Kurt Vile.
There will be many more lists to come in the final weeks of 2011, but here's a good start on our latest issue: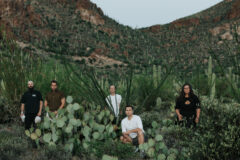 • SPIN's 50 Best Albums of 2011
• SPIN's 20 Best Songs of 2011
• Video Premiere: Fucked Up's 'Turn the Season'
• SPIN's 40 Best Rap Albums of 2011