The first two members of this year's Jukebox Jury have been responsible for their own share of 2011's memorable music. On her fifth album, Metals (Cherrytree/Interscope), smoky-voiced chanteuse Feist proved the success of 2007's The Reminder was no fluke. The new set is tougher and deeper than its predecessor. The Roots' ?uestlove long ago earned his bona fides as an Ivy League–level music-head. A concept album about the outcomes of one very bad decision, undun (Def Jam) finds the drummer and his Philly pals stretching — something they do nightly as the fast-thinking backing band on Late Night With Jimmy Fallon. Deep into his fourth season on Saturday Night Live, ?uestlove's NBC colleague Bobby Moynihan rounds out our trio, though his zeitgeistiness has more to do with devastating Snooki impressions than radio play. All three jurors sat down in Manhattan to talk about the year's best, worst, and most vexing songs. "I always said I'd never get roped into doing one of these things," opined ?uestlove. Sorry, dude, no backsies.
LMFAO, featuring Lauren Bennett and GoonRock
"Party Rock Anthem"
Rarely is a song title so accurate — for either humans or rodents ?uestlove: I love these guys. I love that the progeny of [Motown Recordings founder] Berry Gordy is leading a dance-pop band. LMFAO is Berry Gordy's son and grandson.
FEIST: Really? The apple doesn't fall far from the tree. Or maybe it does.
MOYNIHAN: This song makes me want to dance as hard as I can. Or makes me wish that the hamsters that danced to it in the Kia commercial were real. You don't know how many times I've pitched the idea of coming out on "Weekend Update" dressed as a hamster dancing to this. It hasn't flown.
?UESTLOVE: LMFAO have a good sense of humor about themselves. They know they're mindless. Not everyone does.
Fleet Foxes
"Helplessness Blues"
Angelically crooned — and impressively bearded — back-to-the-land folk
FEIST: I've heard of Fleet Foxes forever, but this is the first song of theirs I'm familiar with. It's amazing how quickly this band became part of the cultural vocabulary. You hear their name and you immediately think of this folky, bearded Brooklyn sound.
?UESTLOVE: I can hear the beard scraping against the guitar.
MOYNIHAN: I didn't know them at all until they were on SNL this year. I have a very distinct memory of being in the dark, in costume, wearing roller blades and having someone tell me that my sketch was cut while Fleet Foxes were playing. I was very sad.
FEIST: So Fleet Foxes symbolize your personal failure.
?UESTLOVE: This was your soundtrack to sadness.
MOYNIHAN: It was the soundtrack to my working for 72 hours straight for no reason.
Rebecca Black
"Friday"
A vocally challenged teen's vanity track becomes an Internet meme and ontological conundrum
?UESTLOVE: We played this on Fallon, and I remember the irony of us studying the song like a science: What does she do in the second verse? How does the rap go? Doing that made me realize that I no longer believe in good songs and bad songs. I now only think of songs as effective and noneffective. Even though as a technical singer she's not "good," this was one of the most inescapable songs of 2011. What does it say when a bad song is inescapable?
FEIST: It's the power of the hook. In Germany, the word for a hook translates to "ear worm." It worms its way in there and affects your mind like those insects in Star Trek II: The Wrath of Khan.
MOYNIHAN: I'll be singing this all day. I have a buddy from college, we call him Stank Draws. He's an idiot. He doesn't know anything about music. And he called me up once and left a message singing "Friday." I was like, "Of all the things you don't know, and you do know this?"
?UESTLOVE: This song reveals a primitive side of us that we're afraid to admit that we have. Look throughout history — take [Barnes and Barnes' 1980 novelty song] "Fish Heads," for example. I love the shit out of "Fish Heads." Was that the "Friday" of 1980? It's a really dumb song that's effective.
FEIST: But I think this was more of an Internet phenomenon than a song. It's popular in the same way that "Double Rainbow" was popular. It was about that more than the hook.
?UESTLOVE: Here's the sound bite: In the post-Obama age, Americans have revealed a lot about themselves, and I think Americans like "Friday" more than they care to admit.
FEIST: Oh my God, just turn it off.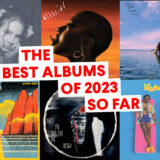 Pitbull, featuring Ne-Yo, Afrojack, and Nayer
"Give Me Everything"
A shiny blast of carpe-diem dance optimism
?UESTLOVE: I had to spin this the other day at Heidi Klum's birthday party in Vegas.
MOYNIHAN: I can definitely relate.
?UESTLOVE: I wouldn't necessarily grab for this song when I'm driving or walking down the block. I keep this song in my glass file — break open in case of emergency. In case I'm met with indifference, I have this song ready.
FEIST: Quick, dance!
?UESTLOVE: Exactly. I try and con people into dancing to stuff they don't necessarily think of as dance music. I'll play Kermit the Frog's "Happy Feet." I normally don't go for four-on-the-floor stuff like this, but occasionally I'll meet an audience with disdain for my set and I'll hit the switch.
FEIST: It's a shame Kermit doesn't work for that. I'm more of a Muppets person.
Nicki Minaj
"Super Bass"
Defiantly quirky rapstress delivers her most irresistible pop hit
FEIST: I saw Nicki Minaj on YouTube after some dilettante rapper friend of mine said I had to see her. The footage was live from maybe three or four years ago — just her in a tiny, sweaty club. I was blown away. It reminded me of when I was 20 years old and discovered Lil' Kim. Nicki was so outrageous. She had this ultra-feminine punk-rock vibe. I can't find that in her anymore. She's like a cartoon character.
?UESTLOVE: I also didn't see this coming. I knew of Nicki Minaj as a street rapper, and this is far beyond a girl from Brooklyn spitting verses. I'm giving her a major pass only because she's like a Rubik's Cube that's two steps away from being solved. Maybe she needs the right acting part, but she can be huge. I just never expected Nicki Minaj to get to the stratosphere level of being the next Madonna. She's not there, but she could be. It's possible.
FEIST: But this is just not interesting to me. It sounds so chockablock. It's generic. Her personality is gone.
?UESTLOVE: She sounds natural in this, though. She doesn't sound like she's trying to follow trends. It comes naturally to her. It kind of reminds me of the Black Eyed Peas. They're more effective as a pop band than they were as a rap band. She might be like that.
Foster the People
"Pumped Up Kicks"
Lyrically disturbing, musically MGMT-like, this was the year's biggest indie-inflected hit
?UESTLOVE: Do people get the irony of this song? Do people understand that it's a Trenchcoat Mafia kind of lyric?
FEIST: There's nothing like whistling along to mass murder.
MOYNIHAN: It's like the musical version of Dexter. I like this murderer! He seems nice!
FEIST: It's unbelievably catchy, though. You can sneak in just about any message if the melody is good enough.
Lou Reed and Metallica
"The View"
The avant-rock icon and heavy-metal titans meet — with iffy results
MOYNIHAN: I feel like a few people were walking around and someone said to them, "Did you hear that Lou Reed and Metallica are making an album?" And all of those people were like, "What?! I'm a huge Lou Reed fan and a huge Metallica fan!" Those people's minds exploded when they found out about this.
FEIST: James Hetfield really doesn't have a lot to do on this song.
?UESTLOVE: Would this have been more interesting to people if Metallica had done it after [1991's] the "Black Album"? I don't know. Maybe it's the point they're at in their career that makes people perceive it negatively.
MOYNIHAN: For a song, this sounds like a pretty good SNL sketch.
R.E.M.
"Oh My Heart"
The mournful single from the band's final album
FEIST: What's this singer's name? Michael Skipe? There's a kind of Canadian R.E.M. called the Tragically Hip. I really think of R.E.M. as the American Tragically Hip.
?UESTLOVE: Ooooh! That's serious right there. This song is good, but I wish the band hadn't been so fatalistic about breaking up. Why be so definitive?
FEIST: It's so they can have the reunion shows later on.
?UESTLOVE: If five million people bought this record, would they have said they were breaking up? Just chill for three years and then come back.
Jay-Z and Kanye West
"Niggas in Paris"
The most bangin' track on the year's most hotly debated collaboration
?UESTLOVE: This is going to be the most confusing future sports anthem of all time. It's great for an arena, but people aren't going to say "Niggas in Paris" out loud. It's my favorite song on Watch the Throne. Kanye's production never lets you get bored. He throws in something for everyone — Will Ferrell quotes from Blades of Glory even. He's made me reconsider that movie. I love this song just for the introduction of the word "cray."
FEIST: What's "cray"?
?UESTLOVE: Crazy. Like, "That's so crazy it's cray!"
MOYNIHAN: I was wasting so much time saying that second syllable! It does pump you up, though. Listening to this while walking to work, I'm looking at people like, "I'm listening to music and I will fight you!"
Foo Fighters
"Walk"
In the year of NirvanaNevermind retrospectives, Dave Grohl and Co. scored with this chiming, churning guitar burner
MOYNIHAN: Dave Grohl is the funniest, nicest dude.
FEIST: GGBB? Good guy, bad band?
?UESTLOVE: Oh no! That shit cray!
FEIST: I was just asking the question! Uh oh, my manager is saying I have to go now.
MOYNIHAN: If you watched Lost, sometimes the episodes were crazy good and sometimes you're like, "That one was just sorta there." This song is like that.
Bon Iver
"Calgary"
Formerly sensitive folk singer turns into sensitive art-rocker
MOYNIHAN: This makes me want to walk down a dark hallway with a candle.
?UESTLOVE: This makes me want to date somebody so she can break my heart and I can move to the woods and watch Northern Exposure for four months and then write a good album about it and then have the hottest women in the world cry over me in concert.
FEIST: That was the first album: breakup. Now he's on the second album: makeup. Justin Vernon is actually in love with my buddy, [singer-songwriter] Kathleen Edwards.
?UESTLOVE: When I went to see Bon Iver play, I realized that the audience is maybe more in love with the backstory than the music. In the lobby listening to people, I was like, "Are you a Bon Iver fan or a Bon Iver–story fan?" I think people hold on to the fantasy of a man in a cabin crying his eyes out.
FEIST: Calloused hands, chopping wood.
?UESTLOVE: And a Brooklyn beard. I don't know why he watched Northern Exposure when he made the first album.
MOYNIHAN: I really hope he watches a box set of Wings when he makes his next one. That or Becker. FEIST: I listen to this album in its entirety.
After I finished my record, this is the first thing I listened to.
?UESTLOVE: I didn't know how to separate the songs. I listened to no album more than I listened to Bon Iver, but I couldn't tell you what each song was.
FEIST: Singles have their place, but it's nice to see that there's still a musical place for the hour-long commitment.
Beyoncé
"Countdown"
The reigning queen of pop offers her legion of fans an atypically knotty number
?UESTLOVE: She's caught a lot of unfair flak for this. Knowing her and Jay personally, their musical tastes are closer to a music snob's tastes. He himself says, "I dumb down for my audience / And double my dollars." They're itching to live up to the potential of their musical IQ, but they know that it would go over the heads of their audience. Beyoncé saw [Broadway musical] Fela! this year and had this crazy epiphany: "I'm gonna go all out and do shit I've never done before." Now she's paying for it dearly. They released everything but the album credits as a single, and nothing stuck to radio. I applaud her for trying to con her audiences into trying something different.
MOYNIHAN: Whenever I hear her music, I'm like, "I gotta get my shit together. I gotta work harder." You watch her videos — she's a machine. I watch one of her videos and I think I have to approach comedy with as much dedication as she does music.
FEIST: I don't know how she does it. She's of the highest technical caliber. She's so timeless.
Britney Spears
"Till the World Ends"
The self-described femme fatale decides to don Euro-pop garb
FEIST: I can't get into the vocoder or whatever effect is on her voice. It's weird. That sound has just entered the musical lexicon, but it makes everything sound the same. It turns her voice into binary code. I can't find anything to hold on to in this. It might as well be a robot singing. I know it has some power, but there's nothing fascinating about it for me.
?UESTLOVE: This album didn't take off like a lot of people thought it would.
MOYNIHAN: There was a point in my life when I'd go out to bars and clubs, and there'd be songs playing like this that have very specific moments where people would go, "Oh!" and start dancing. Then the quiet part starts and people can sip their vodka and Red Bull, then the hook comes back and you dance again. It's very useful for drunk people.
Adele
"Someone Like You"
2011's biggest success story delivers a sterling piano ballad
FEIST: The voice. It's magical.
?UESTLOVE: The world champion.
MOYNIHAN: She did SNL and I just remember crew members tearing up watching her. I don't consider myself a music expert or anything, but there's some people who anyone can tell have that special thing. Listening to her is like watching Kristen Wiig do comedy. It's like, "Oh yeah, this is that art being done correctly. You're doing exactly what's right."
?UESTLOVE: This is almost like a Bon Iver moment. People followed the backstory. 21 is basically the white version of Mary J. Blige's My Life. Adele is the jilted woman. The second she finds happiness, all the people that climbed aboard will just fall off.
Lady Gaga
"Born This Way"
Outrageous misfits, this is your song
?UESTLOVE: I like serious piano Gaga better than I like this Gaga.
MOYNIHAN: When she sits down at the piano, she's fucking amazing. Also, a Lady Gaga impersonator lives directly above me, and for six months all I heard was him singing this song over and over at the top of his lungs. I kind of didn't mind it.
FEIST: I saw her on YouTube wearing just a blazer and playing piano, and it was my first understanding of her musicality. She's built all the other stuff on top of a proper foundation.
MOYNIHAN: She reminds me of the girls that I would do West Side Story with in high school. If you told me that one of them was gonna wear a meat dress, I'd be like, "Oh okay, that's weird. She's so talented. Why is she doing that?" She's an amazing singer. She doesn't have to be this Halloween costume. FEIST: It must be exhausting.
MOYNIHAN: You give yourself away at some point. You just become the character.
FEIST: How much time does she spend getting her clothes constructed around her? Props to her commitment to that external thing.
Radiohead
"Lotus Flower"
Oxford's finest do their version of funky
FEIST: This song has my favorite video.
?UESTLOVE: Thom Yorke's Muppet dancing is one of my favorite discoveries of the year. But I consider this song to be evidence of Radiohead in their Talking Heads Remain in Light phase. When I saw them live, I heard more Afrobeat and West African influences than I've heard in the past. It wasn't all guitar rock. I like it. I'm not one of those Radiohead snobs — Pablo Honey! The Bends! I love this to death.
FEIST: They had hits at the beginning that gave them the leverage to become an album-making band. I never know what I'm going to get when I turn on a new Radiohead album but I know it'll be its own universe.
?UESTLOVE: But it's not as good as "Friday."