Blur won't just be taking home a prize at the Brit Awards in February. The Damon Albarn-led Britpoppers will also be performing, bass player Alex James has revealed.
In an interview with British station XFM, James said the band will play at the ceremony, where Blur will receive an Outstanding Contribution to Music award. "I saw the guys this week, we had a Christmas cuppa," he's quoted as saying. "We're going to play, which is brilliant, it's like putting the Blues Brothers back together."
James stayed coy, however, about whether Blur will play any additional live shows next year. "Well, let's hope," he said, adding, "I wish I could tell you more. I'm sure it will happen one day but I don't know when. It's quite nice to keep it special." Blur last performed live in 2009, including sets at Glastonbury and London's Hyde Park.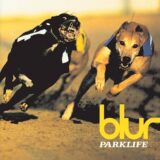 The Brit Awards are set for February 21 at London's O2 Arena. Last year's event included live performances from Adele, Arcade Fire, Cee Lo Green, Rihanna, Mumford & Sons, and others. Among previous winners of the Outstanding Contribution Music award are Paul McCartney, U2, Oasis, Queen, Van Morrison, and Fleetwood Mac, so while it's not quite like being knighted, Blur will be in some lofty company.
Now the question becomes what song(s) Blur will play. The Brit Awards' official press release understandably singles out their U.K. hits, including not only global smash "Song 2" and occasional American MTV clip "Girls & Boys,"but also distinctly English sensations "Country House" and "There's No Other Way." It'd be a kick to see guitarist Graham Coxon take the lead on 1999 sleeper hit "Coffee and TV," though, or to catch a performance of the most recent new Blur song, 2010 Record Store Day single "Fool's Day." Here's an understated live rendition of an underrated favorite from 1993's Modern Life Is Rubbish, the languid, loop-based "Blue Jeans," followed by a music video for that album's much more frenzied lead single, "Popscene":