Chris Cornell is currently touring the U.S. in support of the November 21 release of Songbook, a collection of 16 tracks recorded live during his solo trek last spring. SPIN recently rang the alt-rock vet in New Orleans, where he was preparing to play a one-off headlining gig at Voodoo Fest with Seattle's reunited grunge heroes Soundgarden (who are recording a new effort of their own). Here's what he had to say — before he got laryngitis.
You launched a solo U.S. tour last spring. Why expand it and record the new album?
My attitude from the beginning was that I wanted to take the solo tour everywhere — Australia, New Zealand, U.S., Canada, and Europe. But I didn't know what it was going to mean, necessarily. With "Seasons" [Cornell's solo acoustic contribution to the Singles soundtrack], people got this Led Zeppelin III feeling. So, when I was writing songs for Euphoria Morning, my first solo album, people expected that was the sound I was going for. It was like, "If it's not Soundgarden or Temple of the Dog, then it must be something like 'Seasons.' " I'd also recorded an acoustic version of [Soundgarden's] "Like Suicide" that was released in another film [1994's Stephen Dorff and Reese Witherspoon-starring S.F.W.]. "Spoonman" was written acoustically, too — the original demo was just acoustic guitars and hitting of pots and pans. I thought that recording an album in that style was a good idea. But it wasn't what I ended up doing on Euphoria. So, in the back of my mind, it was a promise to fans and myself that I wanted to make good on. It was a sound that I wanted to do more with.
And the new album is a way of delivering on that?
Yeah. I felt that at this point, it was a way of actually making good on that promise. The record is for the fans at the live shows — they wanted this album. They're a big part of what makes this solo tour special for me. So I wanted to release acoustic renditions of these songs, and I wanted to put it out as soon as possible after that spring tour.
Were these songs recorded all at one gig or a series of shows?
They were recorded all over the place. My only criteria for picking these songs was that they needed to sound on tape just like they sounded live in the room, the theater, or club. So there are songs with mistakes — I hit the wrong chord or something like that. It was all about feeling and sounding just like it did in real life.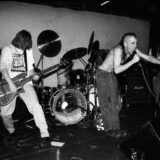 Do you have a personal favorite song to play on the acoustic tour?
It changes. It really depends on the night and how I approach it. It really does vary in the context of an acoustic show, as compared to the context of an eclectic show. Some nights a specific song will really stand out. Other nights, not so much. It's varied. The venues really affect it, too. If you have one of those, "You-can-hear-a-pin-drop performances," then it means that you're really listening to how the room resonates. Some rooms are unbelievably great. Some are good. Others you struggle with.
Has this tour and live LP inspired you to record another solo studio album?
I'll always do solo albums. I've never viewed that as something that was done only in the absence of being in band. I've never really worried much about what the perception is. But for me that is something that I'll always do. It just makes sense.
Can fans expect a solo studio album of new material from you soon?
Well, that's the next logical step. I do want to record an album of new material that's either minimalistic or largely acoustic-based. So, we'll see!