According to John McCauley, Deer Tick have always had a greater affinity for punks than folkies. Nursing a midday vodka tonic on the patio of Jackson's, a trendy bar in Nashville's Hillsboro Village, the shaggy 25-year-old frontman and recent Tennessee transplant recalls the time in 2009 when his group almost got booted off a tour with Neko Case for spilling a drink onstage. "We like to trash green rooms and break stuff and pour beer on the crowd," he says with a smile.
While Deer Tick's previous three ?albums could be filed under the alt-country banner, their latest, Divine Providence (Partisan), resists hyphenation. "This is a rock'n'roll record," ?explains McCauley. "We wanted to be young and stupid while we still had the chance." As sole songwriter, McCauley is no stranger to rowdier fare — up until now, his most prominent gig was embodying Kurt Cobain as the lead singer for Deer Tick's Nirvana-tribute-act ?alter ego, Deervana. But Providence's bare-boned immediacy can also be traced to his youthful listening habits, particularly on the Ramones-channeling gabba-gabba chant of "Let's All Go to the Bar" and the New York Dolls-y swagger of "Something to Brag About."
Still, Deer Tick, which includes ?guitarist Ian O'Neil, keyboardist-?saxophonist Rob Crowell, bassist Chris Ryan, and drummer/Ryan's half-brother Dennis, have not abandoned their twangier impulses entirely: McCauley's nicotine-ravaged vocals wind around the spare styling of "Clownin Around," a darkly moving track infused, like the album's title, with a tortured spirituality for which McCauley credits his religious upbringing in Providence, Rhode Island. "I was a weird teenager," he says. "I couldn't get laid because I did so many drugs. I connect everything to being raised Catholic and all that guilt."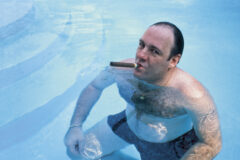 With a starring role in a TV commercial for Stella Artois in the works and a headlining tour currently underway, Deer Tick soon could be joining the ranks of their boldface-name influences. What remains to be seen is whether their core audience will follow them. ?"I wish our fans could have as diverse a taste in music as I do," says McCauley. "I hope they dig the whole reckless-band thing." Either way, if they're standing in the front, beware of the splash zone.