"I'm not a businessman, I'm… No, really guys, I'm not a businessman"
Although the $63 million that Jay-Z pulled in last year puts him squarely in the dreaded 1 percent, the Jiggaman is defiantly out to show his support of the Occupy movement to protest wage inequality…uh, sort of. Today, Jay-Z's Rocawear clothing line is releasing the OCCUPY ALL STREETS shirt that Jay-Z was seen sporting backstage in a Twitpic sent via Rocawear three days ago.
However, there are no plans to actually distribute any of the cash to the protesters currently freezing in Zuccotti Park or runningaround on fire in Oakland. " 'Occupy All Streets' is our way of reminding people that there is change to be made everywhere, not just on Wall Street," a Rocawear rep said in in a statement to Business Insider. "At this time we have not made an official commitment to monetarily support the movement. It's like Diddy's "VOTE OR DIE" shirts if the only thing you were voting for is a rapper's wallet!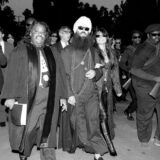 The T-shirts are set to be released today on via Rocawear.com, but if you can't wait, they probably have an overstock of these awful "PLANKIN ON A MILLION" shirts celebrating the worst rap line of the year.