Last year, Damon Albarn told us about a new project with Red Hot Chili Pepppers bassist Flea that would be centered around drummer Tony Allen, who previously worked with the Gorillaz/Blur singer in the Good, the Bad, and the Queen. That group is Rocket Juice and the Moon (do with that name what you will), and they just unleashed live audio of seven new songs.
The music here features Albarn's "favorite" African musicians and expands on Fela Kuti's Afrobeat tradition, topping horn- and electronics-tinted grooves with mellifluous vocals and twisty rapping. According to reports, the trio of Albarn, Flea, and Allen have been joined live by Malian singer Fatoumata Diawara, Malian pianist Cheick Tidiane Seck, Sun Ra cohort Kelan Phil Cohran, and Cohran's eight sons in Chicago-based Hypnotic Brass Ensemble, plus Detroit house producer Theo Parrish, South Africa's Shangaan Electro, and Ghana-born rapper M.Anifest.
Basically, if your interest was at all piqued by Albarn's recent DRC Music project or, say, his 2008 track with West African duo Amadou & Mariam, you'll want to give these a listen.
"Here We Go"
https://www.youtube.com/embed/DZLPXx9jLM4?feature=player_embedded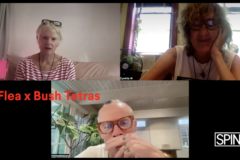 "Dolo Mbife"
https://www.youtube.com/embed/8HBd9fobJkQ?feature=player_embedded
"Damn"
https://www.youtube.com/embed/tZhBmsElxRM?feature=player_embedded
"The Moon"
https://www.youtube.com/embed/hHYeMGVbtQg?feature=player_embedded
"Red Skies"
https://www.youtube.com/embed/en3Momb7AHc?feature=player_embedded
"Put It Out"
https://www.youtube.com/embed/0vGfvwOKRus?feature=player_embedded
"Poison"
https://www.youtube.com/embed/jAvJ_4qdncM?feature=player_embedded