Breaking up is even harder to do than usual in the new video from Michigan-bred retro-soul smoothie Mayer Hawthorne. Watch it below.
From Hawthorne's upcoming major-label debut How Do You Do, "The Walk" is a jaunty, Temptations-style kiss-off to a now-irritating lover. The video sets this tale of a romance turned sour to footage of Hawthorne and his lover battling it out with a military-grade arsenal of lethal weaponry, in scenes reminiscent of the movie Mr. and Mrs. Smith (the 2005 Brad Pitt-Angelina Jolie vehicle, of course, not the 1941 Alfred Hitchcock film).
Musically, the song juxtaposes a vintage style and sentiment with language that would be a bit too real for radio programmers even today. "From the moment that I met ya, I thought you were fine, so fine," the bespectacled singer croons. "But your shitty fuckin' attitude has got me changin' my mind."
How Do You Do, the follow-up to 2009's A Strange Arrangement, is due out October 11. Hawthorne has also released a couple of video teasers for the album, featuring fans and such fellow musicians as Snoop Dogg, the Roots' ?uestlove, and Erykah Badu, all pretending to be him. Check those out below, too.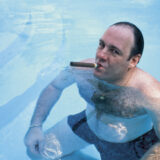 Watch: Mayer Hawthorne, "The Walk"
https://www.youtube.com/embed/gmfcYli6vV4?version=3
Watch: Mayer Hawthorne, How Do You Do teasers
Watch: Mayer Hawthorne, "How Do You Do PSA #2"
https://player.vimeo.com/video/29931619?title=0&byline=0&portrait=0