On his new album Watch the Throne, Kanye West reminds us (repeatedly) of his love of Maybach cars, Hermes clothes, and Rolex watches. But the king of luxury rap also wants us to think of him as a man of the people. And during a visit to New York City's Occupy Wall Street protests on Monday, he made that point without saying anything at all.
'Ye and Russell Simmons dropped into Lower Manhattan's Zuccotti Park, ground zero for the protests, where some have been camped out for 24 days, and Simmons acted as the rapper/producer's spokesperson as his client remained tight-lipped. "Kanye's been a big supporter, spiritually for this movement," said Simmons. "He's just here to stand with the people. He understands this idea about getting the money out of the government and letting the people govern. He wants to give power back to the people." Remember, per his track "Power," Kanye thinks, "No one man should have all that power." So, there you go.
During his visit, Simmons made an appearance on Al Sharpton's radio show, which is broadcasting from Zuccotti Park. He said that as part of the nation's rich "1 percent," he was "happy to pay a little more taxes if it means better education for our children. I don't pay enough taxes and I know it."He added, "I want to write a check when everybody else does" (via NY Daily News).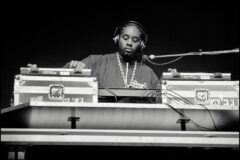 Following the visit, Simmons tweeted, "I just walked @kanyewest thru the #occupywallstreet. I love how sweet and tolerant he was to the crowd." Or, um, complete stone cold sober…? Have a look:
https://www.youtube.com/embed/9y768coPoGo