After making a rare appearance over the weekend at All Tomorrow's Parties, elusive Neutral Milk Hotel main man Jeff Mangum played an unannounced set Tuesday night at the Occupy Wall Street protests in New York City. Watch a video of the entire set below, via TwentyFourBit.
Performing solo with an acoustic guitar, Mangum covered the Minutemen's caustic populist anthem "Themselves." The Athens, GA-based indie-rock icon's set also included sing-alongs from Neutral Milk Hotel's landmark 1998 album, In the Aeroplane Over the Sea, such as "Holland, 1945" and "Two-Headed Boy."
"Hello, my name is Jeff from Neutral Milk Hotel, and I'm at Occupy Wall Street," Mangum told the camera at one point, before tearing into the strummy intro to NMH classic "Song Against Sex," originally from 1996 debut album On Avery Island.
Read SPIN's 5 Reasons Why Jeff Mangum Is Magical.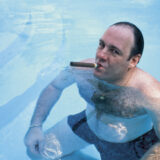 Mangum's appearance followed some musical confusion last week for the downtown Manhattan protesters. On Friday, rumors spread that Radiohead would be performing at Occupy Wall Street, but the band later said it would not be appearing. "We wish the best of luck to the protesters there, but contrary to earlier rumours, we will not be appearing today at Occupy Wall Street," the band said in a Facebook post.
In an interview with the NME, the British band's guitarist Jonny Greenwood went further: "Are we sympathetic to the protesters' cause? Of course. I understand people feeling frustrated with Wall Street, anyone would be, especially as those institutions were bailed out by taxpayers' money. I don't think that's a controversial thing to say."
Watch: Jeff Mangum, Occupy Wall Street, October 4, 2011