Brooklyn band Friends are in the midst of a several-night stand during New York's CMJ Music Marathon, and the group's new video offers a pretty compelling reason for checking them out.
"I'm His Girl," the A-side from Friends' upcoming second single on British label Lucky Numbers, is as catchy as the most radio-friendly bubblegum, with the vintage downtown cool of early hip-hop: sing-song lyrics, dirty-funk groove, post-disco percussion. The video, co-directed by lead singer Samantha Urbani and Aurora Halal (whose credits include a tribute to disco savant Arthur Russell), neatly transfers that retro-chic aesthetic into VHS-ready visuals, as a walk with a cassette player through urban streets where you might expect to see Blondie leads to a shadowy, clap-along performance.
The B-side, a cover of Ghost Town DJ's stripped-down 1996 R&B hit "My Boo," provides further evidence that Friends are worth getting to know. The "I'm His Girl" single is due out November 1. No word yet on a full-length, but first single "Friend Crush" arrived earlier this year.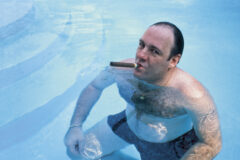 https://youtube.com/watch?v=O5VNumNJyqE%3Fversion%3D3