Less than two weeks after R.E.M. broke up comes an intriguing reminder of how it all began. The band's hard to find 1981 "Cassette Set" demo tape has started circulating online, offering a glimpse of producer Mitch Easter's original mixes of three early songs by the indie rock pioneers. Hear a stream of "Radio Free Europe" over at Slicing Up Eyeballs; blog The Power of Independent Trucking has cleaned up and posted the entire tape for download.
The tape consists of "Radio Free Europe," "Sitting Still," and "White Tornado," plus studio variations for each, including the previously bootlegged "Radio Free Europe (Radio Dub)." R.E.M. recorded the songs on April 15, 1981, at Easter's Drive-In Studio in Winston-Salem, NC. The Power of Independent Trucking says the tracks it posted come straight from one of only 400 original cassettes distributed to labels, venues, and journalists.
R.E.M.'s debut 7″ single release of "Radio Free Europe"/"Sitting Still" later that year on Hib-Tone Records was based on these demo versions, but added overdubs and notoriously band-hated mixing work by label chief Johnny Hibbert. Easter's mix of the post-overdub "Radio Free Europe" has since appeared on the R.E.M. compilations Eponymous (1988) and And I Feel Fine… The Best of the I.R.S. Years 1982-1987 (2006).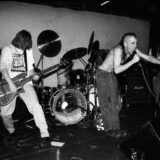 A career-spanning R.E.M. greatest hits compilation is on the way November 15. Titled Part Lies, Part Heart, Part Truth, Part Garbage: 1982-2011, the 40-song set, including three new tracks recorded this summer with producer Jacknife Lee, who also helmed Accelerate and Collapse Into Now. Check out SPIN's 10 all-time favorite R.E.M. moments here.
Hear It R.E.M., "Radio Free Europe (Original Cassette Demo Version)"