College rock bricklayers R.E.M. called it quits last month, but they've only just begun rolling out material from their career-spanning retrospective Part Lies, Part Heart, Part Truth, Part Garbage 1982-2011, due out on November 15. The comp will include three fresh tracks, and the mellow, orchestral swan song "We All Go Back to Where We Belong" now has a pair of videos to accompany it.
Helmed by Michael Stipe and previous R.E.M. music-video director Dominic DeJoseph, both videos are essentially extended black-and-white film portraits of their subjects, reminiscent of Andy Warhol's iconic Screen Tests. The first clip ought to make Jens Lekman even more bashful than usual: It features an awkwardly smiling Kirsten Dunst, the subject of the standout track from the Swedish softie's recent An Argument With Myself EP. The second focuses on artist-poet-activist John Giorno, who manages more of a slyly consistent stare.
In each case, the result is a disarmingly intimate visual to a tearjerker track with more than a whiff of Burt Bacharach. Expect to hear this one on some movie's end credits in the near future…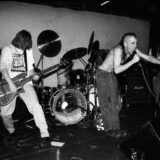 Look back at R.E.M.'s four-decade career in photos.
https://youtube.com/watch?v=kpwd1YLgDaM%3Fversion%3D3
https://www.youtube.com/embed/7Gdyd8PX7Oc?version=3