San Diego's House of Blues was packed by 8 p.m., sold out and stuffed full of rowdy fans anticipating the arrival of Odd Future, there to kick off their first headlining North American tour. The stage was empty and the house music low, but that didn't stop anybody who wanted to from crowd-surfing, throwing shit and shouting like they were experiencing the apex of a Sex Pistols gig.
Several chants were attempted — Wolf Gang! Golf Wang! Free Earl! Fuck Chris Brown! Swag! — often at the same time from different sections of the crowd. While a stagehand placed clean white towels strategically around the stage, security worked to free two young women from the pit, pulling them out bodily lest they be crushed against the railing up front.
"We'll be lucky if we live through this," someone muttered.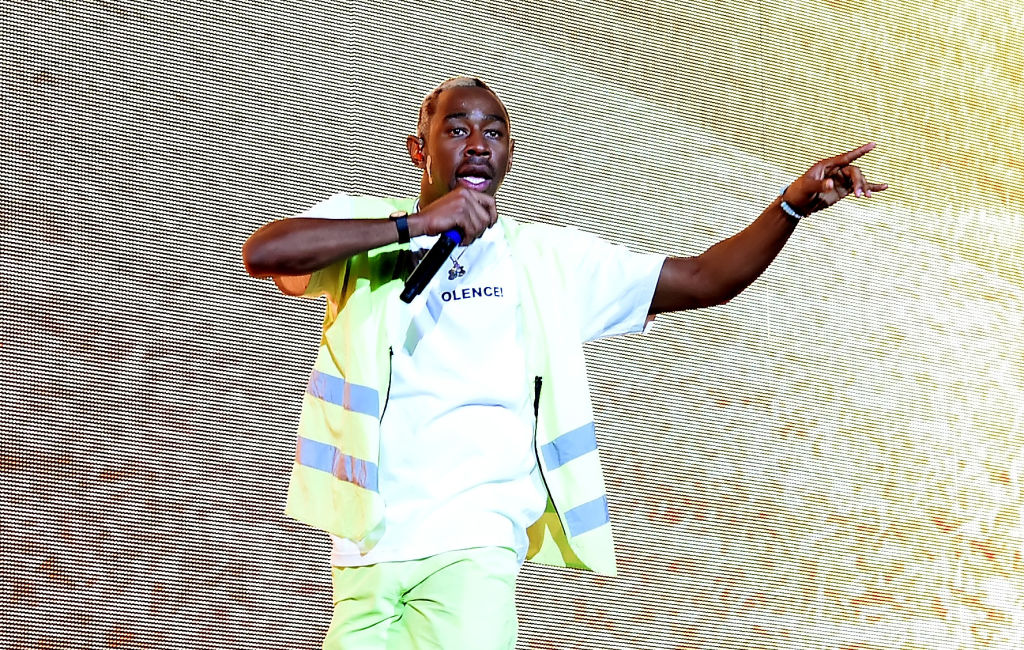 Then Syd the Kyd, redundantly tasked with warming up the crowd, swaggered up to the DJ riser, dropped the needle on "Karma" by Waka Flocka Flame, and the entire place exploded. Kids jittered and screamed as they slammed into one another. They surfed the crowd while convulsing and fist-pumping. A shoe flew nearly hitting Syd; she picked it up, determined the source, and whipped the Chuck back like a missile.
But all of this still paled in comparison to what would come. As the eyes on the giant feline face framing the stage began to swirl, Syd cued up the blackened synths of MellowHype's "64," and as Hodgy Beats and Left Brain ran out, people screamed as if John and Paul had just hit U.S. soil for the first time. When Tyler, the Creator arrived to do the ungodly "Transylvania" — shouted into the mic by half of the crew until it sounded like a choir of demons blaring through a busted P.A. — well, you'd think Jesus had landed.
From there, it was all sweat and swagger with brief cool-off periods whenever crew stoner Domo Genesis or the ever-mellow Mike G did a song. Chaos reigned, and it was impossible to make out the rare bits of nuance found in highlights like Tyler's infinitely creepy "Tron Cat" or Domo's goopy lo-bit bubbler "Domier," but the audience wasn't there to watch Odd Future unplugged. The appeal of the group's music is its ability to insight and ignite, and the live show might do that even better than he records.
For instance, it didn't matter one bit that Hodgy's microphone wasn't working for most of the willfully obnoxious "Gun Sounds" — what mattered was that he'd broken it while front-flipping into the crowd at the start of his verse, and that Left Brain had followed him in, where they performed the entire song while thrashing on top of their fans. Similarly, the clangy, rapid-fire "Igotagun," painful on MellowHype's BlackenedWhite, felt like a revelatory whirlwind as it tore through the speakers and into people's heads.
But the biggest surprise came with "Bitch Suck Dick," the least listenable track on Tyler's Goblin, an insufferably ignorant, musically bereft posse cut about exactly what its title suggests. Oddly enough, as Mike G stalked the stage with a light saber and wigs flew overhead alongside orphaned bras and shoes, the sloppy, tinny No Limit-like steamer became a bullheaded work of bacchanalian brilliance — an unlikely closer, but far more effective than even "Yonkers" at sending the crowd into a fury.
Ninety minutes after it'd started, the entire spectacle was over. There was no encore, and no need. Band and fan alike were thoroughly whipped, drenched, spent. And that was just night one.