Previously unreleased live footage from the 20th anniversary reissue of Nirvana's Nevermind (arriving September 27) has hit the Web. A live DVD featuring Kurt Cobain and Co.'s 1991 Halloween show at the Paramount Theatre in Seattle will be included in the deluxe edition and sold separately. Watch clips of "Breed" and "Territorial Pissings" from the performance here.
Krist Novoselic's sarcastically yowled line from the Youngbloods' hippie touchstone "Get Together" gives way to the rest of a particularly ferocious "Territorial Pissings," where you can see Cobain slap the top of the guitar's neck for some squealing harmonics going into the quick instrumental breakdown. "Breed," meanwhile, begins shrouded in darkness before building up to Cobain's stage-wandering solo. Both videos feature a young David Grohl, shirtlessly dominating on the drums; Noveselic is barefoot.
VH1 Classic will also broadcast the concert in full on September 23 at 11 P.M.
More coverage on SPIN:
FREE ALBUM: Download SPIN's Tribute to Nirvana's Nevermind
True or False? 8 Myths About Nirvana's Nevermind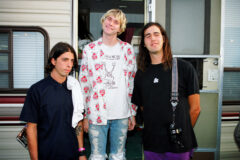 Earlier this week, Novoselic led a Nevermind tribute show in Seattle, joined by twenty different bands, including the Fastbacks, Ravenna Woods, Visqueen, Tacocat, Loaded (the band led by Guns N' Roses' Duff McKagan), and the Presidents of the United States of America.
Separately, three previously unreleased tracks from the Nevermind reissue surfaced, including a recording of "Smells Like Teen Spirit" live from the Paramount. On September 24, Jon Stewart will be sitting down with producer Butch Vig and the two surviving members of the band for an interview on Sirius XM.