Fans in the Los Angeles area who paid attention to their Twitter feeds ahead of the holiday weekend got a sneak preview of Feist's new album Metals, arriving October 4. The Canadian singer-songwriter debuted new songs in unannounced show Friday night at the Del Monte Townhouse in Venice, CA. The blog Rock Is a Girl's Best Friend posted videos from the performance, which you can watch below.
As Rock Is a Girl's Best Friend points out, Feist first hinted at the venue for this "secret" performance in a Twitter message. "Anyone in Los Angeles will probably have a good time tonight if they can find this place by 10pm…" she wrote, followed by a photo of the Townhouse's glowing sign.
The surprise performance featured the the breezy, sumptuous "How Come You Never Go There," plus other Metals songs "Woe Be," "A Commotion,""Graveyard," and "Bittersweet Melodies." As Consequence of Sound observes, Feist is backed live by Vermont folkies Mountain Man.
In July, SPIN caught a first listen to the new Feist album. Pegging "Woe Be" as a highlight, we compared the song to Carole King and Leonard Cohen alike: "If any track has the potential to break big like [2007 album The Reminder's] '1234', it's this one."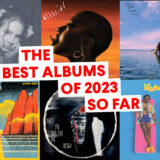 WATCH: Feist, "How Come You Never Go There"
https://www.youtube.com/embed/ZV0XqD2C2rw
WATCH: Feist, "Woe Be"
https://www.youtube.com/embed/IiDh2R8h29U
WATCH: Feist, "A Commotion"
https://www.youtube.com/embed/e7dKcEvtl50
WATCH: Feist: "Graveyard"
https://www.youtube.com/embed/ItKubLliWOY
WATCH: Feist: "Bittersweet Melodies"
https://www.youtube.com/embed/HGBnnRgv9EQ