Ryan Adams unveiled a live, in-studio performance video for the title track off his 13th album Ashes & Fire, out October 11. The clip was posted over at the album's Amazon pre-order listing and spotted by TwentyFourBit. Check it out below.
In this stripped-down version, shot in a retro, VHS-camcorder style, "Ashes & Fire" harks back to the wrenching barroom intimacy of 2000's Heartbreaker, Adams' solo debut after leaving the alt-country band Whiskeytown. His voice creaks over waltzing strums of acoustic guitar, as he vividly juxtaposes the rural beauty of a woman whose skin smells "like black cherries" with urban grit like the "bums on the Bowery." In recent live performances, the song gains drums and weeping keyboards.
Another Ashes & Fire track, the similarly rootsy "Lucky Now," has also hit the web. Tom Petty and Heartbreakers' keyboardist Benmont Tench joins Adams on that track. Surprisingly, neither song sounds all that different from Adams' recent Iron Maiden cover.
Tench isn't alone among stars appearing on the album. As SPIN has reported, Norah Jones sings on three songs, and production comes from Glyn Jones, a veteran of albums by the Who, the Rolling Stones, and the Beatles.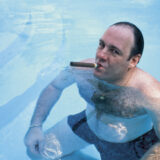 WATCH: Ryan Adams: "Ashes & Fire"