After announcing a decision to call it quits earlier this week, R.E.M. have revealed details about their upcoming, career-spanning greatest hits compilation. Titled Part Lies, Part Heart, Part Truth, Part Garbage: 1982-2011, the collection arrives November 15 via Warner Bros., according to The Hollywood Reporter. More details are anticipated on Monday.
The set, which the band had previously said was in the works, follows a hodgepodge of previously issued R.E.M. hits collections. The most recent, 2006's And I Feel Fine…The Best Of The I.R.S. Years 1982-1987 and 2003's In Time: The Best of R.E.M 1988-2003 broke up their hits based on which label originally put them on wax.
Read SPIN's 10 all-time favorite R.E.M. moments.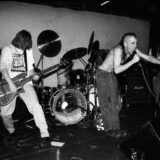 On Wednesday, R.E.M. posted a statement on their website unveiling their decision to move on after 31 years and 15 albums.
The band's breakup comes after the release earlier this year of Collapse Into Now, which, per our reviewer, "mostly sounds like a familiar friend." A two-CD reissue of 1986's Lifes Rich Pageant followed in July.
Check out the six-song encore set from R.E.M.'s final concert, on November 18, 2008, via Slicing Up Eyeballs. Introduced as the conclusion of "our last show for a long time," the 36-minute video includes such songs as "Losing My Religion," "Life and How to Live It," and "Man on the Moon."
Watch: R.E.M., encore set in Mexico City, November 18, 2008
https://www.youtube.com/embed/UF5AxcGCkW4