In the fall of 2003, the Rapture played The Late Show With David Letterman. They were arguably the biggest band in New York at the time, and as they rampaged through their indie smash "House of Jealous Lovers," their youthful swagger — frontman Luke Jenner's high-strapped guitar bashing, multi-instrumentalist Gabriel Andruzzi's odd knee dips and cowbell wags — swallowed up the screen. A lot's happened since, including, as Andy Battaglia writes in SPIN, a painful major label leap, near break-ups, and personal strife, but the band ultimately hashed out their issues on the way to releasing their first album in five years, the plaintive, hopeful In the Grace of Your Love.
You'd think that kind of trajectory would wear guys out. But as the Rapture showed during a compact, rowdy set last night at SPIN's NYC headquarters for the latest SPINHouse L!ve event, presented by Lacoste L!ve, they haven't lost a step.
Most commendably: Andruzzi has maintained, or perhaps even improved, his bewildering dance skills. Jenner's a fairly restrained front man, and he doesn't have to do much more than let out that signature yelp to command attention (His banter was spare, but effective: At one point, he asked the overflow crowd, which was watching via a video feed on the roof, to "say 'footballs' real loud" if they could hear him — they could, and did). Andruzzi gamely filled up the available space, shimmying side to side while blowing his face out on the saxophone, bouncing intently up and down while busting out the band's familiar cowbell.
Gabriel wasn't having all the fun, though. Halfway through the set, an increasingly more joyous Jenner leapt up on the drum riser, and later followed it up by charging out into the crowd with a lengthy mic cord trailing behind. Not that the crowd needed a pick me up: They were game from the go, sipping Reyka Vodka drinks, and keeping up with Andruzzi's moves and drummer Vito Roccoforte's incessant beats by pogo-ing up front and stomping around in the back. A few brave souls even risked their lives by getting up close to the speaker stacks, which looked in imminent, awesome danger of toppling over — a credit to the concentrated, bashed-in energy the Rapture were delivering.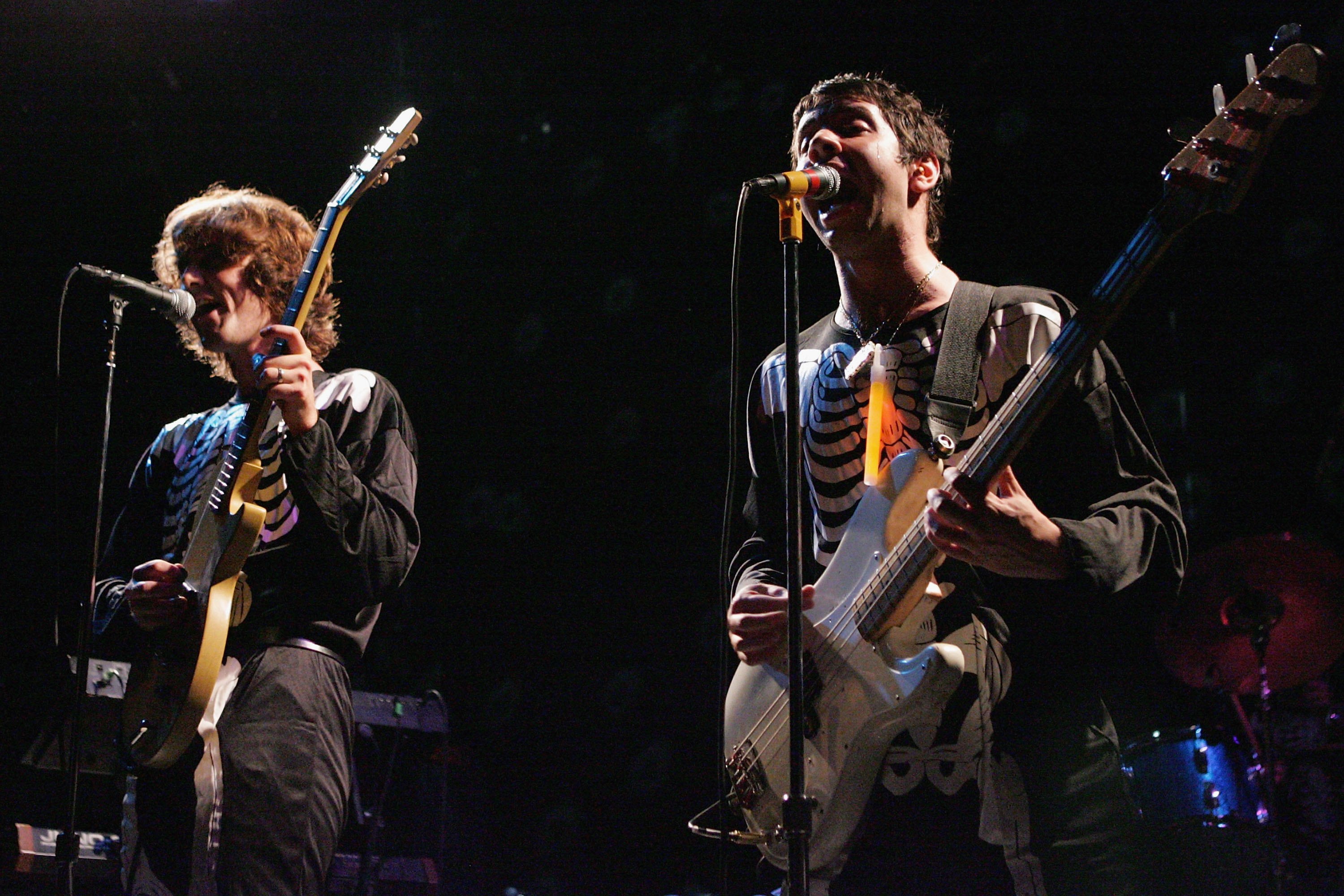 "House of Jealous Lovers" was, as to be expected, a fan favorite, but the new stuff slayed too, most notably "How Deep Is Your Love" (which, for the record, is neither a Bee Gees or Dru Hill cover), the crisp and bouncy grooves perfect for flooding the cozy SPIN lobby. Late in the set, after ambling away from the mic stand, Jenner made his way back with a flurry of air punches, a big smile plastered on his face. It was that kind of show.
Setlist:
In the Grace of Your Love
Get Myself Into It
W.A.Y.U.H.
House of Jealous Lovers
Echoes
How Deep Is Your Love?
Encore:
Killing