This Friday, when the three-day American version of the eclectic All Tomorrow's Parties festival kicks off in Asbury Park, New Jersey, British downtempo pioneers Portishead will be playing their first American show in three years. It's a big deal, because the trio from Bristol have released only two albums since their breakout 1994 debut, Dummy (No. 47 on SPIN's 125 Best Albums list), which layered Beth Gibbons' spectral vocals atop booming hip-hop beats and lush orchestration, and they rarely tour.
But beyond kicking off their first national headlining jaunt in 13 years at ATP, the bandmembers are also co-curators of the event (Flaming Lips, My Bloody Valentine, and filmmaker Jim Jarmusch have presided over the three previous years).
We caught up with Portishead beatmaster Geoff Barrow to talk about this year's ATP. And while he didn't want to get too detailed about a potential "next" Portishead LP, beyond confirming that the band will "endeavor to release another album" and will start writing and recording in 2012, Barrow — whose other band, Beak, is also performing this weekend — was excited to discuss the artists he's most looking forward to seeing, and how his band helped put it all together.
SPIN: How did you approach the curation process for the festival?
The three of us generally know each other's taste, so when someone proposes a band, someone else usually goes, "Fuck yeah! That sounds great!" Then [festival creator Barry Hogan] will say, "Well, I can get Ultramagnetic MCs," and [Portishead guitarist Adrian Utley] and I freak out. Barry is so connected. But we also trusted each other's taste. For example, Adrian suggested [guitarist] Marc Ribot, who's a friend of Adrian's, and incredibly well respected. I don't know his work, but knowing Adrian, of course it's going to be fucking wicked. We worked together so many years, Adrian and I, and we're pretty harsh on music together, so we trust that each other's picks were going to be good.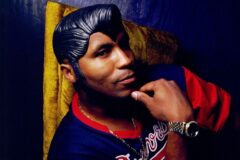 Have you ever heard of Asbury Park? Of course, we know about Bruce Springsteen and that stuff. It sounds really similar to Minehead, England, which is where ATP started. I think New Jersey's got more going for it because the weather's actually nice there, whereas in Minehead it usually isn't nice at all. But the real thing is that Barry puts on festivals in places that are slightly run down, but just cool as fuckery. They're not going to attract people who'll be like, "Oh gosh, there's no sushi. Where are we going to get bloody sushi at this hour?" It's not that way. It's people who are saying, "Did you see that set? That was amazing."
So tell us who you're most excited to see at the festival.
I suppose I'll start with Public Enemy. It was my punk. I was obviously into hip-hop before that, and early electro hip-hop, but when Yo! Bum Rush the Show came out, I was just like, "Oh. My. God." What happened to people living in the middle of nowhere in the States who heard the Sex Pistols — that was the same thing that happened to me with Public Enemy. I heard "Rebel Without a Pause" in a nightclub in Bristol, and it just changed my life. Chuck D and the S1W and their absolute strength — it was a big "f-you" to the industry, to everything. And Chuck D is totally real. It was just an exploding part of my brain.
Have you met them?
Absolutely. Chuck D joined us when we played [Spanish festival] Primavera [in 2008], in the middle of "Machine Gun." It was really funny. Adrian turned into kind of mister uber posh when Chuck talked about jumping onstage with us: [adopting a poncey accent] "Oh, that would be marvelous, if you could do that it would be wonderful." And I turned into the bumbling gardener: "Oh that'd be lovely, Mr. Chuck D, I'm a big fan of your music."
Amazing. Who's next?
It has to be Ultramagnetic MCs. They always had massive tunes, but it was always a cut above standard hip-hop, the stuff that's your meat and veg, the stuff that sells really well, the kind of hip-hop people were buying in the '80s and '90s, that just satisfied a little hip-hop buzz for a little while. But Ultramags were always just absolutely fucking mental. Even though they had so many incredible classic tracks, their third album The Four Horsemen is absolutely genius. Before Kool Keith went on to do Dr. Octagon and all that stuff, before the Prodigy's "Smack My Bitch Up" and all that, just so everyone knows, Ultramags were the mainstay of hardcore, alternative, no-fucking-about hip-hop since before hip-hop existed. Hopefully they'll be there! They were going to play a show in Bristol recently but it fell through. It's going to be really tight.
Between them and PE, they kind of unraveled that hip-pop stuff.
That's what I'm saying – that was punk! Hip-hop was being absorbed by the white industry, the New York music industry, then these real bands came through, and you couldn't fuck with them. Jesus, how we could do with something like that now.
How about one more, for the festival?
I would have to say it's going to be Silver-Qluster [a collaboration between two electronic music groundbreakers: Simeon of NYC's Silver Apples and Hans-Joachim Roedelius of German band Cluster]. To pull together these absolute innovators of experimental music to play together for the first time, and they're both in their late-60s, 70s now. Wow.
How did you get into them?
I knew of Cluster, and Adrian introduced me to Silver Apples. I interviewed Simeon from Silver Apples for an online magazine a few years ago, then I met Roedelius from Cluster playing in a Swiss electronic festival, and they're just two of the loveliest people. So when it came down to this event, we asked whether they would be interested in playing together and they said, "Of course." I don't think people realize how influential they were. I mean, Silver Apples used to jam with Hendrix, and they used to have noise-off competitions where Simeon used to try to out-weird Hendrix. With his oscillator and his effects, Hendrix used to try to out-weird Simeon. I think Simeon was incredibly integral to the kind of noise that Jimi Hendrix made. And you think about that now, "Star-Spangled Banner" and all that, that might not have happened if it wasn't for Simeon. And the same for Cluster and their experiments throughout Germany and the whole art scene there. For years, they were on opposite sides of the world and just experimenting, with nobody being particularly interested at all. And now people like us go, "Oh my God! It's Cluster and Silver Apples!" So yeah, it's an honor that they are going to play together.