PJ Harvey picked up Britain's Barclaycard Mercury Prize last night for her war-torn album Let England Shake. The honor makes Harvey the first two-time winner in the history of the prize, according to Reuters.
Harvey previously won the award in 2001 for her fifth studio album, Stories From the City, Stories From the Sea. This year she topped a short list of 11 other nominees, including pop siren Adele, post-dubstep poster boy James Blake, grime MC Tinie Tempah, and fellow past Mercury Prize winners Elbow.
During her acceptance speech, Harvey drew a connection between Let England Shake and the attacks of 9/11, which prevented her from traveling to London to receive the award a decade ago. "When I last won I was in Washington, D.C., watching the Pentagon burn from my hotel window," she said, as quoted by London's Independent."So much has happened since then. I wanted to make something meaningful and to make something that would last."
A panel of musicians and other industry representatives has awarded the Mercury Prize to their choice for the year's best album by a British or Irish artist since 1992. Past winners include the xx, the Arctic Monkeys, and Franz Ferdinand, along with Antony and the Johnsons.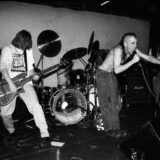 Harvey talked with SPIN earlier this year about the theme of war on Let England Shake. "The way we treat one another as individuals and nations is incredibly distressing," she said. "It prompts anger and despair in me, of course, but I'm still hopeful for the capacity to change. We have to be, don't we?"
WATCH: PJ Harvey, "Let England Shake"
https://www.youtube.com/embed/I2Qlb0qFLFE