If you imagined that the recording process for French electro-house duo Justice (whose name you must pronounce in an appropriately French manner "YOOS-teece") took place in a cozy but cool studio, a space equally apportioned for making music as it is for popping champagne, hanging out with cute girls, and playing with puppies, you'd be right. Well, at least that's how they're presenting things in their new video for "Audio, Video, Disco," the title track off their long-awaited sophomore album (out Oct. 25). Watch it here.
The video is cut to appear as a single take that captures the song's creation, from start to finish, with the camera following Justice's Gaspard Augé and Xavier de Rosnay as they track vocals for the song, and play pianos, drums, and guitars while bathed in sexy lighting, often sourced from a giant version of their glowing cross logo.
In between the various musical scenes, you'll notice them sipping wine and bubbly, dining together, giggling with an adorable little pooch, and inviting a cute blonde to decorate their in-studio Christmas tree. Tough life.
Watch It: Justice, "Audio, Video, Disco"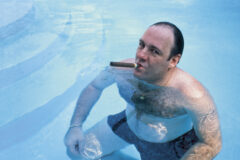 https://www.youtube.com/embed/lqBhgEQ4LT0?rel=0