Mastodon have unveiled their fifth LP, The Hunter, a week ahead of its September 27 release. After previously sharing "Curl of the Burl," "Black Tongue," and "Spectrelight," the Atlanta metal lords are streaming the entire record via the YouTube video below, along with a variety of hallucinogenic visuals.
"It's a jump-on-your-bed, get naked, and go streaking kind of record," Mastodon guitarist Brent Hinds told SPIN earlier this year. In practice, that appears to mean fewer proggy instrumental outbursts and more bad-acid-trip gloom-stomp, though both are in evidence on The Hunter, an ever-virtuosic effort. The album's dark tone and Jurassic weight also confirm what drummer Brann Dailor said of the record: "At the moment, it seems like a really super-heavy Led Zeppelin or something."
The album has a clean sheen over its sludgy riffs and doom-laden vocals, thanks to production by Mike Elizondo, who has worked on pop hits for Dr. Dre, Timbaland, and Fiona Apple, among others. Scott Kelly, from California atmospheric-metal veterans Neurosis, makes a guest appearance on "Spectrelight."
A limited, deluxe edition of The Hunter will also available. The package adds a poster, a DVD, and an "augmented reality experience," where fans can transform themselves into the album art via computer.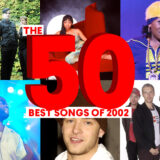 LISTEN: Mastodon, The Hunter
https://www.youtube.com/embed/ffWVlG8rK9k?version=3