Kathleen Edwards crafted one of 2008's quieter pleasures, the affecting folk-country album Asking for Flowers, which featured twangy standouts like "I Make the Dough, You Get the Glory" and "Oil Man's War." Now that the Canadian singer-songwriter is working with Bon Iver maestro Justin Vernon (who also happens to be her boyfriend), she has a prime opportunity to get more of the critical acclaim she has already long deserved. Vernon produces and sings backing vocals on new song "Wapusk." Hear it here.
From a 7″ single due September 26 on Rounder Records, "Wapusk" is as tranquil and icy-bright as its inspiration. Wapusk, as Edwards explains in a press release, is "a remote and barren spot located in northern Manitoba, where many polar bears spend their summers denning and resting on the banks of Hudson Bay." The guitar-slinging folkie returned there in summer 2010 as part of Canada's National Parks Project. Her tribute to the place is slow-paced and nicely layered, with acoustic guitars, sighing fiddles, and a sense of quiet awe.
Vernon's vocals are little more than a faint glow in the distance, but with his production involvement comes a more electronic aspect to Edward's sound. That can be heard on flip side "Change the Sheets," which you can check out here. From the same upcoming 7″ as "Wapusk," the track will eventually appear on new album Voyageur, out January 2012. "Change the sheets, and then change me," Edwards sings on a bewitching song with a hint of Rumours-era Fleetwood Mac in its sparkling polish and pulsing bass line.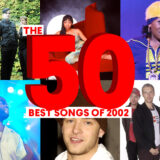 "Wapusk" isn't Vernon's only recent collaboration. Check out his track with U.K. electronic producer James Blake.