Girls made their TV debut last night, and the San Francisco band that Late Night With Jimmy Fallon viewers saw was anything but lo-fi. Supported by not only an additional guitarist and drummer, but also three shimmying back-up singers, the core duo of frontman Christopher Owens and bassist-producer JR White performed "Honey Bunny," from their just-released sophomore album, Father, Son, Holy Ghost. As an online exclusive, Girls also played the album's "My Ma." Watch them both below, via the Audio Perv and Matador Records' Matablog.
Live as on the record, "Honey Bunny" sets a galloping, surf-rock groove to lyrics that may not be as sweet as they seem: "I need a woman who loves me me me," Owens murmurs. "My Ma," meanwhile, is a swaying, lighter-aloft indie-pop power ballad, with slide guitar and more loneliness.
On Friday, Girls will play what Matador bills as "the first-ever nationwide in-store." Specifically, the band is set to give an in-store performance at Nashville record store Grimey's that will also be streaming live on the websites of more record stores than you can shake a stick at. A limited-edition Girls vinyl release will come out later this year, only at stores participating in this event.
WATCH: Girls, "Honey Bunny"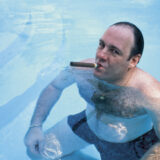 WATCH: Girls, "My Ma
LISTEN: Girls, Father, Son, Holy Ghost