"Are you ready for a long fucking night?" Dave Grohl sneered, just four songs into what would unspool into a massive two-and-a-half hour set in St. Paul, MN, Wednesday night as Foo Fighters kicked off their 27-date North American tour.
Grohl has plenty of material to choose from at this point in his career, so rather than trading in any of his band's greatest hits to feature material off their latest studio album, Wasting Light, he did what any self-respecting, spotlight-loving rock star would do: He simply made his band play longer. Much, much longer. Over the course of the night they managed to feature 8 of the 11 tracks off Wasting Light without axing a single hit off the setlist, nestling new singles like "Rope" and "Walk" between familiar favorites like "Learn to Fly," "Monkey Wrench," and an especially grandiose, uplifting version of "My Hero."
But this was all to be expected. Now nearly two decades into their career, Foo Fighters are experts at drawing in new fans while staying true to their origins and honoring their fanatics. They've gleaned the most sustainable elements of the grunge and hardcore punk aesthetic — the straightforward presentation, the unrelenting commitment to authenticity — and married those ideals with a self-aware, populist approach. It's a balance that has earned them an uncontroversial kind of fame, and it's a balance that makes for a hell of a live show.
"You know what's one of the greatest things about being in the Foo Fighters?" Grohl boasted about an hour into the show, pulling a giant wad of gum out of his mouth and swigging from a bottle of Beck's. "We don't need any fucking computers behind us to do it. It's just guys on a stage. It's still possible to do that, ladies and gentlemen, and this is what it sounds like." And with that, the band tore into "Monkey Wrench" and Grohl leapt off the stage and tore down a catwalk amidst oustretched hands, effectively uniting the sold-out, 13,000-capacity Xcel Energy Center.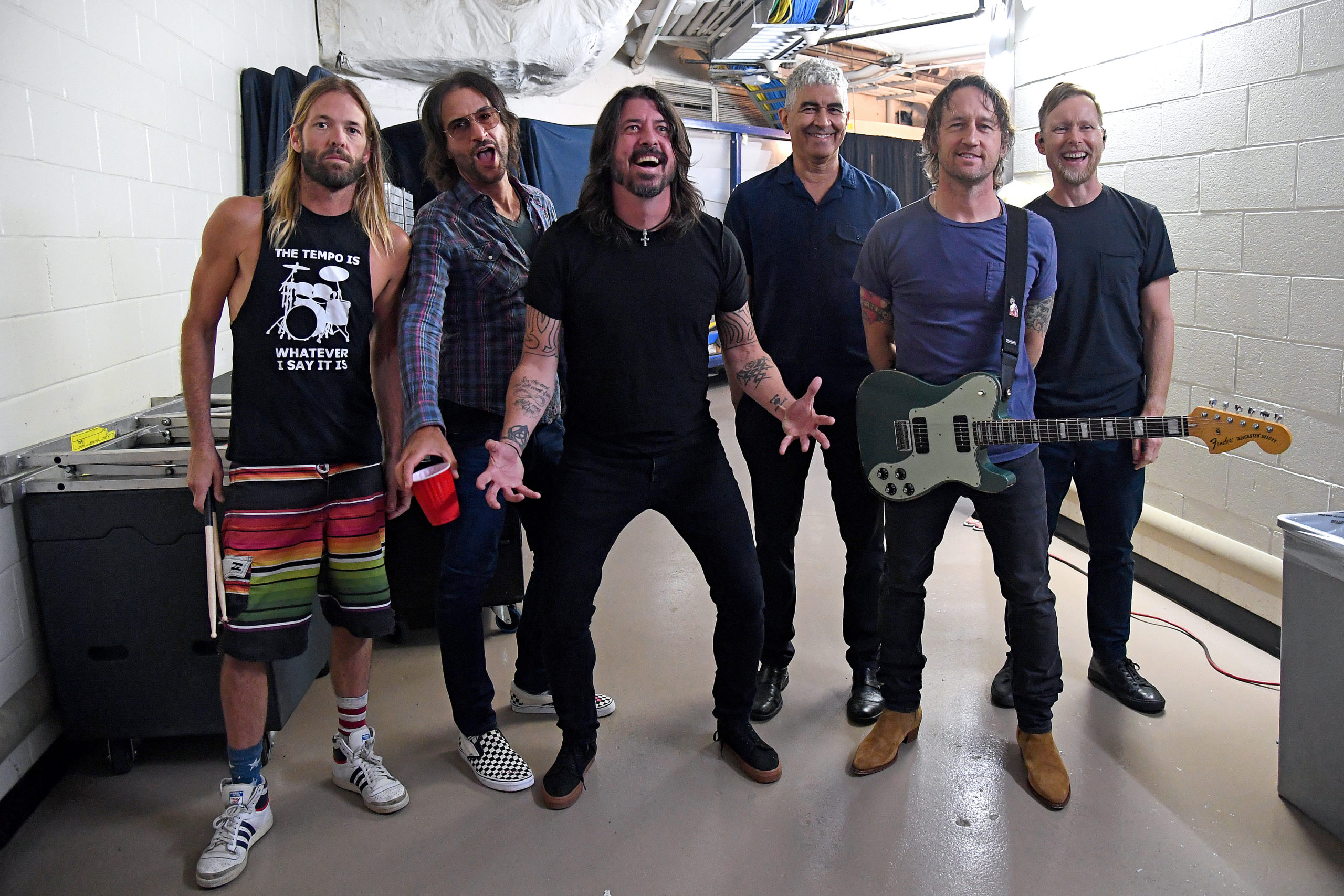 Wasting Light is a triumph not only because it's a return to form for Grohl as a songwriter, but because it gave him the opportunity to welcome back longtime pals like Nevermind producer Butch Vig and sporadic Nirvana and Foo Fighters guest guitarist Pat Smear. Live, Smear is now an integral part of the Foo experience, so much so that it was hard to imagine the performance without him as he briskly traded off guitar duties with Grohl and Chris Shiflett. The whole band played with a relentless vigor and explosive energy, as if reveling in the joy of being back in front of a full arena, and drummer Taylor Hawkins looked out wide-eyed at the crowd at one and remarked that he couldn't believe "this many motherfuckers in Minnesota" liked his band. Grohl replied, "This is a big show for us," and it seemed like he really meant it.
Grohl did much to give thanks on Wednesday night. As with past trips to Minnesota, he was sure to mention his admiration for seminal Minneapolis trio Hüsker Dü. But at this show he appeared visibly awestruck as he told the audience that he had the opportunity to hang with both drummer Grant Hart and bassist Greg Norton backstage before the show. "Every now and again you get to meet your heroes," Grohl beamed. "This band wouldn't be here if it weren't for a legendary band called Hüsker Dü. Tonight, two of 'em are here, two out of three." He proceeded to dedicate "This Is a Call" to Hart and Norton, playing the song extra fast and hard and falling to his knees to wail on his guitar.
Low points in the night were few and far between. The energy seemed to drop for back-to-back new songs "White Limo" and "Arlandria," but it was quickly raised back up for a sing-along on "Breakout."
At another softer point the band played "I Should Have Known" for the first time live, and the song was made all the sweeter by the surprise addition of Minnesota native Jessy Greene (Pink, Fistful of Mercy) on violin. Greene also helped Grohl ease into a lengthy encore by accompanying him to a small raised platform near the back of the arena, where the two performed a stunning rendition of "See You" that had the frontman shaking his head in disbelief and holding onto his acoustic guitar for dear life.
Just when it seemed like the show might start to wind down, the band brought it up another notch for a string of hits: "See You" followed by "Best of You," "Times Like These," and the new "Dear Rosemary," which transitioned seamlessly into a righteous cover of Tom Petty's "Breakdown," showing just how structurally similar those two songs actually are. With the band was nearing the end of their scheduled set time, Grohl seemed to intentionally stall, gushing, "Every fuckin' rock singer wants to be Tom Petty. He's the coolest motherfucker in the world!"
When the cheers wouldn't let up, Grohl stepped back up to the microphone to protest again. "My set list says we're supposed to stop. But I don't wanna stop! Shit, what should I do? Keep fucking playing, right?" After telling a story about filling in at an outdoor festival for Cee Lo with a set full of covers, Grohl launched into another classic with Queen's "Tie Your Mother Down," darting around the stage as if it was their first song of the night instead of their 25th. And while "Everlong" made for a satisfying finale, it was a reluctant farewell for Grohl; just as his tour is beginning, he promised the crowd that he would rush home and record another album so he can come back and do it all again.
Setlist:
Bridge Burning
Rope
The Pretender
My Hero
Learn to Fly
White Limo
Arlandria
Breakout
Cold Day in the Sun
Long Road to Ruin
Stacked Actors
Walk
Generator
Monkey Wrench
These Days
I Should Have Known
Skin and Bones
This is a Call
All My Life
See You
Best of You
Times Like These
Dear Rosemary
Breakdown (Tom Petty cover)
Tie Your Mother Down (Queen cover)
Everlong