Beatmaking alchemist Bryan Hollon, aka Boom Bip, is a pro at powerhouse collaborations. The L.A.-based producer's partnership with Gruff Rhys of Super Furry Animals as Neon Neon earned him a U.K. Mercury Prize nomination in 2008, and his backing band includes members of Red Hot Chili Peppers and Gnarls Barkley. Zig Zaj, Hollon's next Boom Bip album (due out September 27), boasts even more collaborative clout, with guest appearances by Franz Ferdinand's Alex Kapranos, Empire of the Sun's Luke Steele, and Money Mark, for starters. Here, we're premiering "Goodbye Lovers and Friends," featuring Kapranos. Download it below.
Boom Bip feat. Alex Kapranos, "Goodbye Lovers and Friends" (DOWNLOAD)

Kapranos flaunts his vocal flexibility, switching between his sly, signature talk-singing through some brooding verses, then pitches up to a ghostly sigh for a chorus that is both heartbreaking and optimistic. "When they lie and say 'this is not the end' / We can laugh as if we're still together," Kapranos consoles. The song builds tension by juxtaposing chilly keyboard chords with an upbeat jangle of funky bass and electric guitar rhythms.
"I kept hearing Alex's voice on the song as I was working on it and eventually presented it to him to see what he thought of it," Hollon tells SPIN."Alex has a remarkable way of projecting happiness while still sounding dark."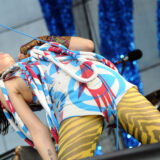 Even though Franz Ferdinand's tour kept the pair from going into the studio together, Kapranos was able to nail his part thanks to Hollon's clear vision: "I told him to imagine he was in a small dusty theatre around the turn of the 19th century and performing magic tricks for a small audience. The end result was so incredibly close to what I heard in my head.It really was executed as I had imagined, which never happens."
Boom Bip is currently closing out a European tour, but will return stateside for L.A.'s Eagle Rock Music Festival on October 1, followed by a seafaring set aboard the Weezer Cruise in January.