Halloween is six weeks off, but don't tell Deerhunter and Atlas Sound frontman Bradford Cox. He posed as Joey Ramone during the Black Lips' show Saturday night, complete with long black wig and black leather jacket. Watch their performance below (via Pitchfork and ifilmbands).
Playing at Southern Comfort Lounge in Conley, GA, Cox joined the Lips for a cover of Bobby Freeman oldie "Do You Wanna Dance?". Of course, they did the song the Ramones' way.
Cox's costumed appearance wasn't a total surprise. As Pitchfork points out, the Atlanta musician commandeered the Black Lips' Twitter feed earlier that same day, at one point typing, "There are rumors of a resurrected ghost making a guest appearance at tonight's show."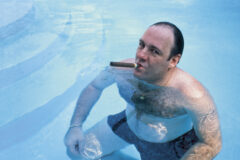 As usual, Cox has plenty of other projects in the works. His latest Atlas Sound album, Parallax, is due out November 8 — hear first taste "Terra Incognita" here. As for Deerhunter, the noise-streaked art-rockers recently covered Georgia alt-rock icons Pylon in the midst of a recently concluded summer tour.
Watch: The Black Lips (feat. Bradford Cox), "Do You Wanna Dance?"https://www.youtube.com/embed/aq4Th6AbWBk?version=3