Brooklyn rock futurists Battles play their instruments like machines. British synth-pop pioneer Gary Numan became famous for playing machines like instruments. "My Machines," from the stellar Battles LP Gloss Drop, brings the two together, and now it has an unnerving video.
Directed by Daniel Kwan and Daniel Scheinert, who work together under the name Daniels, the clip shows Numan and Battles performing as a man's attempt to push past people on an escalator leads to harrowing consequences — well, harrowing in escalator terms, anyway. "Listen to the sound of my life," Numan sings, his tone barely human. Battles' assault of otherworldly keyboards, rigidly methodical drumming, and crunching bass imbues the shopping mall misadventure with cinematic drama.
The Creators Project, the Intel-backed arts concern, collaborated with Warp in pairing the musicians with Daniels. The filmmaking duo, who here make a man appear to fall down an up-moving escalator, are also responsible for Chromeo's, ahem, immaculately conceived "When the Night Falls" video.
Like Battles themselves, the clip is forward-thinking yet accessible. "Our music doesn't make many compromises, but we take it into a venue that's larger than people expect," guitarist Ian Williams told SPIN earlier this year. "That's the thrill of Battles, the transgressive element."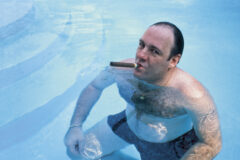 WATCH: Battles [feat. Gary Numan], "My Machines"
https://youtube.com/watch?v=pkgQ88G8Hj8%3Frel%3D0