8 Best Moments of Hopscotch Festival
This weekend in Raleigh, NC, an eclectic collection of bands both new and old, from Boise, Idaho, dream-pop up-and-comer Youth Lagoon to Dayton, Ohio, rock vets Guided by Voices, gathered for the second annual Hopscotch Festival -- here, we break down the eight best moments of the festival.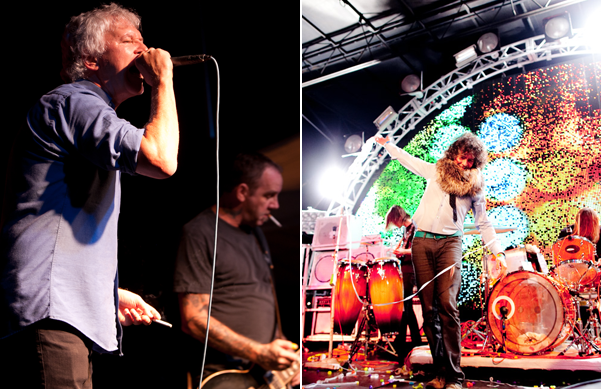 This weekend in Raleigh, NC, an eclectic collection of bands both new and old, from Boise, Idaho, dream-pop up-and-comer Youth Lagoon to Dayton, Ohio, rock vets Guided by Voices, gathered for the second annual Hopscotch Festival -- here, we break down the eight best moments of the festival.
-- By David Menconi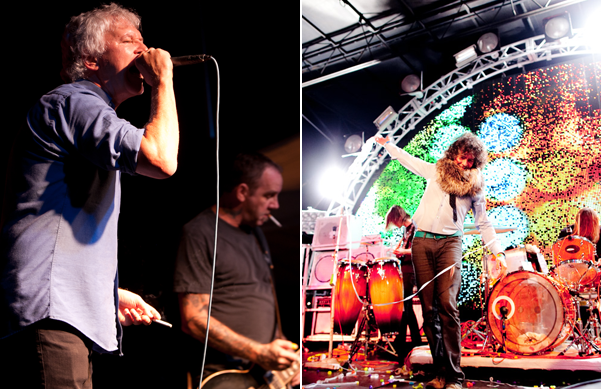 This weekend in Raleigh, NC, an eclectic collection of bands both new and old, from Boise, Idaho, dream-pop up-and-comer Youth Lagoon to Dayton, Ohio, rock vets Guided by Voices, gathered for the second annual Hopscotch Festival -- here, we break down the eight best moments of the festival.
-- By David Menconi
3.No. 8: DINOSAUR FEATHERS
3/10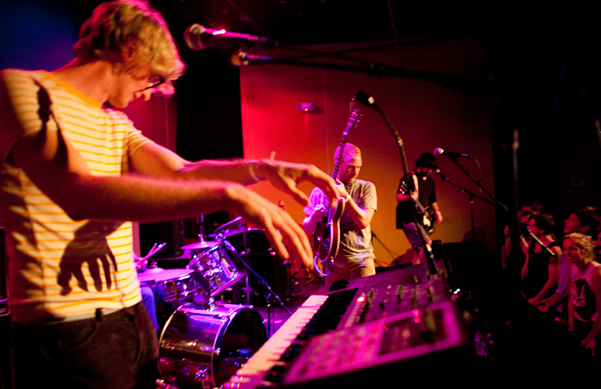 Brooklyn's Dinosaur Feathers are plenty fun to listen to, but even more fun to watch. Between the mohawked drummer, left-handed bassist rocking a Hofner (just like Beatle Paul McCartney), and bespectacled Stewart Copeland look-alike on keyboards, they offer up a spectrum-ranging study in visual contrasts. Playing on borrowed gear at Kings Barcade on Thursday, they took the skittery rhythms of Vampire Weekend and rocked 'em up.
Their songs bounced back and forth between ambling groove and jittery sprint, featuring drums that verged on wildly overplayed. But it was cool, and the band dug the crowd as much as the crowd dug the band. "It's pretty cool for you to be here right when we started to play," guitarist Greg Sullo said. "We love you, Raleigh! We'll be back in October!" You could tell the crowd marked their mental calendars.
4.No. 7: YOUTH LAGOON
4/10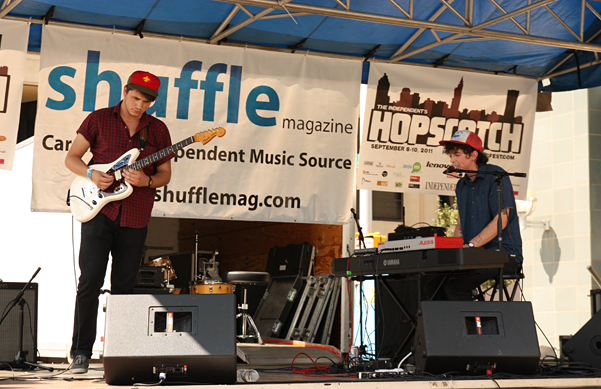 As with South By Southwest, daytime parties are a big part of Hopscotch. One of the best was Saturday afternoon, hosted by classy local heroes the Rosebuds, with a lineup that included the Idaho guitar-keyboard duo Youth Lagoon. They'd just driven in from fire-ravaged Austin, Texas, to play on a blocked-off downtown street in the bright afternoon heat of broad daylight.
That obviously wasn't the best setting for Youth Lagoon's spectral late-night ambience. And yet they pulled it off pretty well, setting keyboardist Trevor Powers' yelping, Jim Jame-esque vocals to guitar drones and synthetic beats. Songs from the upcoming album The Year of Hibernation created a drowsy feeling that descended like a cloak of darkness. Right on cue, the sun went behind a cloud for a bit as a woman with a hula hoop and orange fan slowly gyrated in the street.
5.No. 6: FOREIGN EXCHANGE
5/10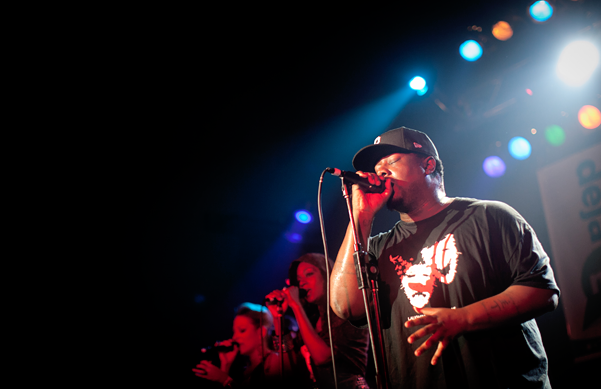 Some years back, Phonte Coleman, the former main man of North Carolina's defunct underground hip-hop outfit Little Brother, began collaborating with Dutch producer Nicolay, e-mailing tracks back and forth between continents. That evolved into the chill ambience of the Foreign Exchange's 2004 debut album Connected. Seven years on, that frosty vibe has warmed up to a sleek soul-revue-style live band tight enough to bounce quarters off of.
Still riding high off last year's Grammy nomination, Foreign Exchange played a celebratory show to a friendly hometown crowd. Coleman is a triple-threat on the mic, equal parts hip-hop emcee, R&B love balladeer, and animated preacherman. But it's a gospel of good times that he preaches – when Coleman called for choruses of "Amen" and "Hallelujah," it was about having fun.
"I love y'all back," Coleman said to the crowd's adulation.
6.No. 5: THE FLAMING LIPS
6/10
There's making an entrance and then there's, MAKING. AN. ENTRANCE. Count the Flaming Lips among the latter. Wayne Coyne's crew know that presentation counts for plenty, and Saturday night they put on a show that was like a kid's birthday party catered by Dr. Seuss on acid, featuring a kitchen sink's worth of tools, toys, and props – confetti, strobe lights, streamers, smoke, dry ice, lasers, bullhorns, balloons, and more lasers shooting out of the palms of giant hands on sticks that Coyne waved about.
"Be as weird as you wanna be," Coyne said in his introductory preamble before surfing over the crowd in his space bubble as scores of giant balloons labeled "Smoke Weed" bounced into the crowd. They didn't make anybody wait for the big hits, either, getting right to "She Don't Use Jelly" and "Yeah Yeah Yeah" early on.
The show may have peaked early and things did drag a bit as the set wore on, bogging down with too much chit-chat and audience exhortation (less-talk-more-music is a pretty surefire formula for building momentum, if you want to wind a crowd up). But all was forgiven when they broke out the Pink Floyd covers, from "Dark Side of the Moon" no less. "Brain Damage" never sounded better.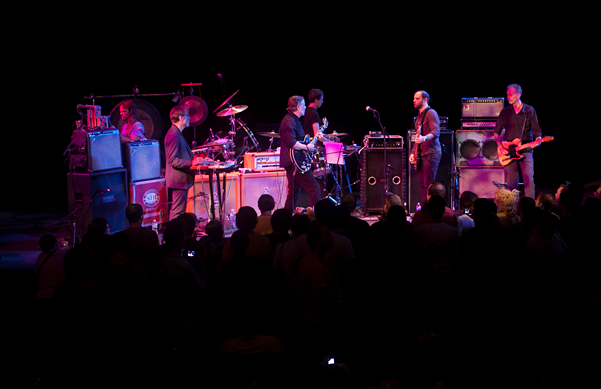 Imagine riding in a jet turbine with a swarm of bees for company. That's what a Swans show is like, especially the opening stretch of their Hopscotch show at Fletcher Opera Theatre on Friday night. That was "No Words/No Thoughts," from last year's Swans reunion album My Father Will Guide Me Up a Rope to the Sky -- stretched out to a deafening half-hour.
Festivities commenced with a drone that sounded sort of like a synthesized version of an orchestra tuning up, and all six members came onstage one by one to join in on hammer dulcimer, chimes, bass, guitars, and dive-bombing lap steel. It was definitely heebie-jeebie-inducing, and intense enough to feel as if it was vibrating straight through you. By the time frontman Michael Gira went to the microphone, there wasn't an unjangled nerve left. "To think is a sin," he howled. You know it.
8.No. 3 (tie): DRIVE-BY TRUCKERS / GUIDED BY VOICES
8/10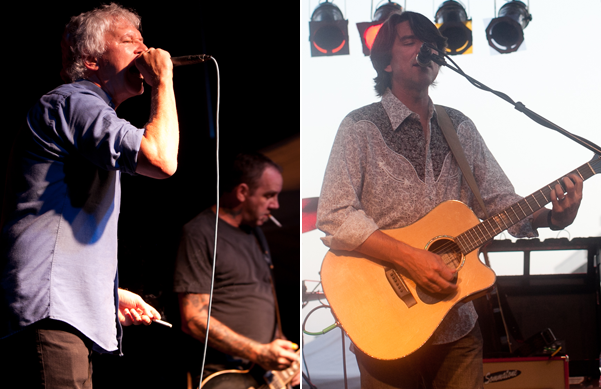 Patterson Hood is not one to let a little thing like a cut hand get between him and The Rock. And so it was that he came out with Drive-By Truckers on Hopscotch's main City Plaza stage early Friday evening despite 15 stitches in his bandaged left hand, holding just a microphone. But Hood was playing air guitar on the opening "The Fourth Night of My Drinking," and he strapped on his trusty Gibson SG for the second song and soldiered bravely on. As usual, Hood's wild-eyed Southern boy was the perfect contrast to co-leader Mike Cooley's seen-it-all cool on a very fine hour-long serving of hard rock from the dark end of the street.
The Truckers opened up for what was billed as the last-ever show by the classic Guided by Voices lineup, although nobody seemed to believe that ("Ya know there'll be another show," quipped Hood). Superchunk drummer Jon Wurster introduced them, announcing that because it was a festival show, Guided by Voices would do a short set of "only" 71 songs.
Actually, their set clocked in at 29 songs in 75 minutes of ragged glory. Frontman Robert Pollard's voice was shaky at times, but he expertly evoked the majesty of rock as he strutted, preened, drank, channeled his inner Roger Daltrey with expert microphone lasso twirls and howled at the near-full moon. Over the years Pollard's live-show experience has come to even resemble Bob Dylan's: it's best not to sweat the details because HE sure isn't, so don't worry so much about identifying songs and just let the man's moods and whims carry you where they will.
The set did include most of the money shots from the classic breakthrough album Bee Thousand (even though Pollard allowed he thought it was "a piece of shit" when released in 1994), including "I Am a Scientist," "Hot Freaks," and "Gold Heart Mountaintop Directory." Guided by Voices has always sounded like stadium rock from a parallel universe, and this might be as close as they'll get in this dimension.
"Come out, come out to play, it's over," Pollard sang during the encore. But Guided by Voices has said goodbye before.
9.No. 2: THE LOVE LANGUAGE
9/10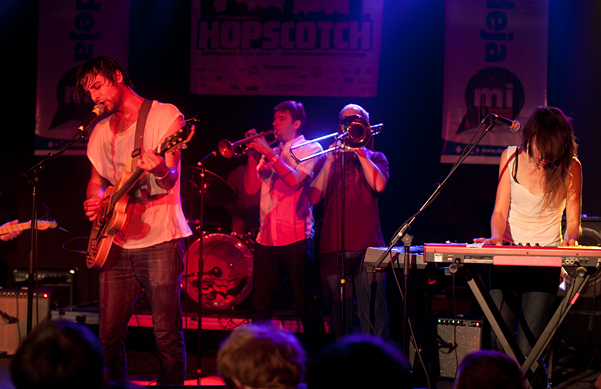 The Love Language is measured and precise on their two full-length releases on Durham indie powerhouse Merge -- but they're an overpowering behemoth live. The six-piece's Thursday night set included a cover of the Supremes' "My World Is Empty Without You," which was fitting because they've always come across as an otherworldly version of Motown. Playing for a raucous hometown crowd, the band transformed frontman Stuart McLamb's quavering meditations on heartbreak into epic, anthemic sing-alongs. Drummer Jordan McLamb was overpowering, lead guitarist BJ Burton was on fire, and you've never seen anybody get as much out of shaking a tambourine as keyboardist Missy Thangs. But it was McLamb himself, the voice of doomed romance, who held every eye in the room.
10.No. 1: JOHN VANDERSLICE
10/10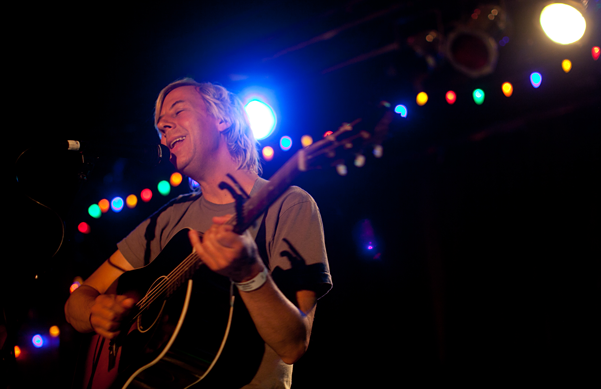 "How much control do we have over the disco ball?" singer-songwriter John Vanderslice asked onstage at the Berkeley Café on Friday night. Someone flicked a switch and the room filled with color, to the delighted oohs and aahs of the crowd. It was an appropriate visual accompaniment. Most solo troubadours stand still, but Vanderslice was as kinetic as his acoustic guitar strums, striding about the stage between verses. He's a songwriter with an amazing eye for detail ("1955 Dr. Pepper cap" was one great image from "Sunken Union Boat"), and he sings in a cutting voice reminiscent of his kindred spirit John Darnielle of the Mountain Goats. Subject matter ranged from Vanderslice's "imperious drunk grandfather" to the joys of discovering pot and Yes' fourth album Fragile as a shy, introverted 12-year-old. The business of corrupting another generation of youth looks to be in fine hands.