This fall German electronic duo Modeselektor will return with their third album, Monkeytown, and members Gernot Bronsert and Sebastian Szary have scored a top collaborator for two tracks: Radiohead's Thom Yorke. Full music has not yet been released, but Modeselektor have offered up 45-second preview streams of the collaboration. Hear them here.
Yorke has worked with Bronsert and Szary in the past: He contributed vocals to haunting glitch-pop track "White Flash" in 2007. And judging by these previews, the trio mine similar, dizzying electronic terrain. "Shipwreck" lays the Radiohead frontman's unmistakable croon over a skittering, drum-and-bass-style groove, while the haunting "This" comes on like the score to the scariest German art-house movie ever.
Monkeytown, which also features collaborations with Anti Pop Consortium and Busdriver, is due out October 4 on the group's Monkeytown Records.
Hear It: Modeselektor, "Shipwreck (Featuring Thom Yorke)"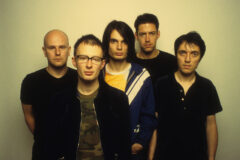 Hear It: Modeselektor, "This (Featuring Thom Yorke)"