With the twentieth anniversary of Nirvana's Nevermind next month, bassist Krist Novoselic is leading a tribute concert in Seattle on September 20. According to local radio station 107.7 The End, Novoselic will be one of the artists to perform the full record and will be joined by bands like the Fastbacks, the Long Winters, Visqueen, Campire OK, Valis (featuring members of Screaming Trees), and others to be announced soon. Dave Grohl will most likely not be joining – he's scheduled for a Foo Fighters show in Cleveland that night.
FREE ALBUM: Download SPIN's Tribute to Nirvana's Nevermind
The event will take place at the Experience Music Project's Sky Church. Tickets, which are available here, will cost $15 for members and $20 for non-members of the museum. In addition to the show being a celebration of the record, it will also raise money for Susie Tennant, who worked with the band at labels Sub Pop and Geffen and is currently battling cancer.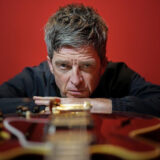 Dave Grohl, Wayne Coyne, Eddie Vedder, and More Reflect on Nirvana's Nevermind
As SPIN previously reported, Universal will release a deluxe reissue of the record on September 27. The set includes a remastered version, alternate mixes, live recordings, and studio rarities, including the Devonshire Mixes – the album as originally mixed and produced by Butch Vig.