"Endless Nameless" was the secret track on Nirvana's Nevermind, a shocking barrage of aggression, hidden after 10-plus minutes of silence on early CD versions of the album. Oakland's rising rocker EMA covered the song for SPIN's Nevermind tribute, and her version evokes the same punched-in-the-gut feeling of the original. But EMA went a step further, and shot her own music video for "Endless Nameless" — and it's just as gripping as her song. Watch it here!
In the clip, Erika M. Anderson (yes, EMA) and bandmates Nicole Anderson, Aaron Davis, and Leif Shackelford uncorked their cover in a rehearsal space, and footage was shot on VHS tape before being digitized, adding to the early '90s feel. Like Nirvana often did when closing sets with "Endless Nameless," Anderson wrecked her gear, beating her guitar to shreds by song's end.
"['Endless Nameless' is] about destruction, it's about feedback, it's about down-tuning," Anderson told SPIN in a video interview, which you can also see below. "It's a performative thing they'd do at the end of a show to break shit. I can get into that."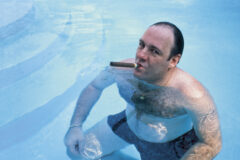 Anderson, 28, was still in elementary school when Nevermind arrived, yet it made an impact. "When I was first becoming aware of music, Nevermind was something that was influencing pretty much everything," she said. "The myth that's part of it, the small town, white-trash-makes-good that probably stuck in more than the actual music did."
This video previously debuted on SPIN Play, our new iPad app, where you can find exclusive clips like this one every month, plus 60 streaming songs, daily news, album reviews, SPIN magazine stories, photos, and other goodies. Find out more.
Sorry, this video has been removed.