Bowling Green, Kentucky's Sleeper Agent are one of our favorite new bands, thanks to their boozy, bluesy rock'n'roll, and the rowdy, boy-girl vocals by Tony Smith and Alex Kandel. Their first music video, for "Get It Daddy," embodies that raucous spirit — watch the exclusive premiere here.
The group romps through the barely-two-minute track — off their debut Celabrasion, which is available via digital retailers today — inside a deserted school building, with an array of piñatas hovering above their heads. But the hanging papier-mache animals soon end up on the business end of an array of weaponry, wielded by various members of the sextet.
"Chainsaws, machetes, a Wolverine claw — some crew and one of our label reps were concerned that one of us was bound to lose a limb," Smith tells SPIN. "We survived, just barely."
But that's not entirely accurate: Kandel discovers a piñata shaped just like Smith, and when she chops off the doll's arm, Smith's appendage gets lopped off as well, in campy slasher film fashion.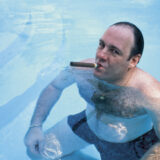 The band will celebrate the album's online release with a hometown gig Tuesday night at Tidball's, the Bowling Green club where hometown heroes like Cage the Elephant (who discovered Sleeper Agent) and Morning Teleportation started. But in old-school rock'n'roll spirit, Smith says they also want to release the album on vinyl: "We all have our record collections and can't fathom what it's going to feel like to flip sides of our own record."
WATCH: Sleeper Agent, "Get It Daddy"