What if a director squandered an $81 million music video budget and all the band had left was a bunch of footage of themselves acting oddly in front of a CGI green screen? That's the scenario imagined in the hilarious new video from kickass Nashville trio, the Ettes, directed by The Best Show host Tom Scharpling and starring comedian Patton Oswalt — as Tom Scharpling. It premieres below.
The clip for "Excuse," off the just-released Wicked Will, opens with Oswalt/Scharpling's "explanation" about what happened. "Boy, we had some big plans for this video," he deadpans. "We were going to knock your socks off, and make Avatar look like The Breakfast Club." After revealing that he blew the aforementioned $81 million — "I'm a bad guy, with a lot of deep vices" — he encourages viewers to use their imaginations to flesh out the video's unfinished action scenes. "That's when your brain is gonna kick in and create a wonderland that's gonna make Tim Burton throw himself under a bus."
The Ettes had long been fans of Scharpling, and his popular The Best Show broadcasts on listener-supported NYC-area radio station WFMU. They first discussed the possibility of collaborating on a video late last year, and the band rang up Scharpling as soon as their album was finished.
"I could not have been more excited because they are completely game for stuff and have a great sense of humor about themselves," Scharpling tells SPIN. Says the Ettes' Coco Hames: "Comedy and music are so related, and when Tom started doing music videos, we were super stoked."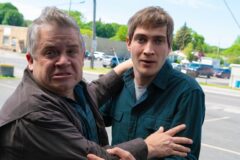 Scharpling recruited Oswalt to participate — "I'm such a fan of his other videos, so of course I said yes," the comedian says — and worked with artist Zack Soto to create the faux storyboards used in the video to show the viewer what was supposed to happen, CGI-wise.
Now Scharpling — who says he draws inspiration for his music video work from indie directors Phil Morrison and Peyton Reed, and early ABBA videos — hopes someone will tap him to helm a project with a real-life big budget. "I'm still waiting for someone to let me shoot something like 'Space Lord' by Monster Magnet or 'Got the Life' by Korn," he says. "I'm not joking!"
Watch It: The Ettes, "Excuse"

Written & Directed by Tom Scharpling
Producers: Robert Hatch-Miller & Puloma Basu
Cast: Patton Oswalt, Michael Lisk, Alex Scordelis, Greg Parker Needham