St. Vincent's Annie Clark is no stranger to reinventing classic rock songs. The singer-guitarist brought down the house at the recent Our Band Could Be Your Life concert with a blistering reworking of Big Black's "Kerosene." And at a show honoring Tom Waits' 1985 album Rain Dogs in London on July 13, Clark delivered a jaw-dropping cover of "Big Black Mariah," which you can watch here (via Pitchfork).
Waits' original is a stomping, tough-as-leather blues number, but Clark and her band turn it into a noise-rocking beast by adding torrents of noise: horn squawks, amp feedback, guttural guitar riffage, drum thwacks, and more. Even cooler: watching Clark's petite frame pummeling her guitar with more force than Thurston Moore and Lee Ranaldo combined.
St. Vincent's next album, Strange Mercy, will be released on September 13.
Watch It: St. Vincent, "Big Black Mariah"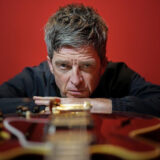 https://www.youtube.com/embed/N66HPoQBChk