After a five-year break, Soul Asylum, the Minneapolis band behind hyper-melodic, catchy alt-rock jams like 1993's Grammy-winning single "Runaway Train," is back. The band is currently in the studio working on their first release since 2006's The Silver Lining, tentatively called Rough Air.
Soul Asylum's founders Dave Pirner (vocals, guitar) and Dan Murphy (lead guitar) are working in Minneapolis and in New Orleans, Pirner's adopted hometown, with drummer Michael Bland (Prince, Nick Jonas), who played on their last record and tours, and bassist Tommy Stinson, the ex-Replacements and Guns N' Roses man who helped record The Silver Lining after founding low-ender Karl Mueller lost his battle with cancer.
"I've been cutting vocals here in my studio, and we've cut a bunch of guitars," Pirner tells Billboard. "When all four of us are in the studio together, it's pretty spectacular."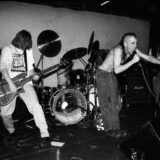 Pirner says the new material's sound "could be loosely categorized as rock," though he hears other influences in the music, too. "There's more personality than one would expect in this day and age because the personalities in this band are so strong," he notes. "There is actually some interesting modal stuff happening."
"I think what I've learned, being in New Orleans and trying to see past the obvious influence of roots music on rock'n'roll, you start to take really bizarre, subtle detours that are really trying to sneak something else into the language," Pirner adds. "It's not a box you have to think outside of; it's a box you have to be comfortable with."
No word yet on a release date for the LP, but management for the band are shopping for labels and/or distribution deals.