From The Grey Album to Girl Talk to The Brothers of Chico Dusty, there's been no shortage of musicians mashing together unlikely musical pairs. But could you ever imagine the formula working between the kung-fu-obsessed hip-hoppers Wu-Tang Clan and straight-edge punks Fugazi? Thanks to two sharp-eared musicians, it does. Pick up 13 Chambers, a wild release from Wugazi, as a free download here.
The Wugazi project is the brainchild of Minneapolis producers Cecil Otter (who is also an emcee in P.O.S.'s Doomtree hip-hop collective) and Swiss Andy (real name: Andrew Lund). The pair, inspired by Mouse's 2004 Grey Album, decided to try something similar with two of their favorite artists.
"I loved that [Danger Mouse's] music was a production, not just a mash-up, and wanted to try it with the two things that were on repeat in my headphones throughout the '90s," Lund told the Washington City Paper, referring to Fugazi and Wu's music. Lund approached Smith last Memorial Day about the project while floating on a pontoon boat in a Minnesota lake. "I had no choice but to say yes. I mean…could you imagine that slow pontoon ride back to the dock if I had said 'No?'"
Though the title suggests a straight up mashing together of both group's classic albums, 13 Songs and Enter the Wu-Tang (36 Chambers), Wugazi borrows from both group's entire body of work, including many of Wu-Tang's various side-projects. Check out the full tracklist below, along with SPIN's annotation of the sampled songs.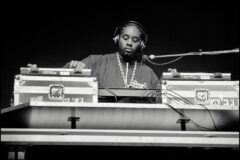 13 Chambers tracklisting:
1. Sleep Rules Everything Around Me (Fugazi: "I'm So Tired" from 1999's Instrument Soundtrack; Wu-Tang Clan: "C.R.E.A.M." from 1993's Enter the Wu-Tang (36 Chambers))
2. Suicide Surprise (Fugazi: "No Surprise" from 1998's End Hits; Gravediggaz (RZA): "1-800-SUICIDE" from 1994's 6 Feet Deep)
3. Another Chessboxin' Argument (Fugazi: "Argument" from 2001's The Argument; "Da Mystery of Chessboxin'" from 1993's Enter the Wu-Tang (36 Chambers))
4. Ghetto Afterthought (Fugazi: "Afterthought" from 1999's Instrument Soundtrack; Audio sample of Ol' Dirty Bastard's appearance on the 1998 Grammys; Ghostface Killah: "Special Delivery (Remix)" from P. Diddy's 2002 remix album We Invented the Remix; Ol' Dirty Bastard: "Ghetto Superstar" with Pras and Maya from Pras' 1998 album Ghetto Superstar; U-God: "Bizarre" from 1999's Golden Arms Redemption)
5. Sweet Release (Fugazi: "Sweet and Low" from 1993's In on the Kill Taker; Method Man: "Release Yo' Delf" from 1994's Tical)
6. Shame On Blue (Fugazi: "Blueprint" from 1990's Repeater; Ol' Dirty Bastard: "Brooklyn Zoo" from 1995's Return to the 36 Chambers: The Dirty Version)
7. Slow Like That (Fugazi: "Slo Crostic" from 1999's Instrument Soundtrack; Ghostface Killah: "Back Like That (feat. Ne-Yo)" from 2006's Fishscale)
8. Floating Labels (Fugazi: "Floating Boy" from 1998's End Hits; Genius/GZA: "Labels" from 1995's Liquid Swords)
9. P.L.O. Squared (Fugazi: "Facet Squared" from 1993's In on the Kill Taker; Method Man: "P.L.O. Style" from 1994's Tical)
10. Nowhere To Wait (Fugazi: "Close Captioned" from 1998's End Hits; Gravediggaz (RZA): "Nowhere To Run, Nowhere To Hide" from 1994's 6 Feet Deep)
11. Last Chance For The Clientele Kid (Fugazi: "Last Chance For A Slow Dance" from 1993's In on the Kill Taker; Raekwon: "Clientele Kidd" from 2003's The Lex Diamond Story)
12. Killa Hill (Fugazi: "Suggestion" from 1989's 13 Songs; Inspectah Deck: "R.E.C. Room" from 1998 single)
13. Forensic Shimmy (Fugazi: "Forensic Scene" from 1995's Red Medicine; Ol' Dirty Bastard: "Shimmy Shimmy Ya" from 1995's Return to the 36 Chambers: The Dirty Version)