It's barely been a minute since the Flaming Lips released music in their ongoing singles series, which has included housing songs in edible gummy skulls. But Wayne Coye and Co. have just announced their next edition: Three sprawling new songs that will be put out via… a gummy fetus. Check out the tracks below and peep the pictures of the actual fetuses here (via Psych Explorations of the Future Heart).
"Enthusiasm" is an absolute blast of psychedelic drone, with an almost-bluegrass guitar lick from Steven Drozd. "Squishy Glass" is even weirder – it starts as a three-minute instrumental of organ fuzz before gliding into a deranged Pink Floyd-ish groove. "Steven's Moonbow" is a gorgeous one-and-a-half minute experiment that comes on like the most deranged children's lullaby ever.
More of these awesomely bizarre releases are on the way, too. Coyne told Esquire the band is toying with gummy genital sex toys. It's all for the sake of art, of course. "I wouldn't even call it raunchy," he said. "These are themes that have played out through our canon – we're about birth and about pleasure."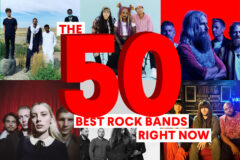 Coyne hasn't revealed exact details about how to pick up your own fetus, but he did tweet that he dropped off six copies at Guest Room Records in his hometown of Oklahoma City, OK.